Times to practice my Eng listening…..是時候練習英語聽力,介紹你一個網站
none

Started my new job for two weeks already, I found so many new things to learn. And one of them is my Eng listening…..

Thanks to the education of HK, I stared learning Eng since I was 3. And I started learning in complete English environment since I was 12. My English, although not good, is good enough for reading, writing and speaking. But I found my listening really suck….One of the main point is, I learnt English in a Chinglish (Chinese style English) environment.
新工作開始兩星期了,我發現有超多新的東西要學!實在很多!而其中一樣我超級需要改善的,是我的英語聽力….

感謝香港教育制度,我3歲就開始學英語,12歲在全英語環境學習。雖然我的英語不太好,但在讀、寫、說方面都能勉強應付,唯獨是聽……只要那人的口音比較重,我就聽得不太懂了,我相信這也是香港的學習環境所致,老師們雖在說英語,但都是港腔英語,我們聽外國腔英語的機會的確不多。
So I searched for some webs that are good for practising listening. I planned to watch a video of maybe 2-3 minutes everyday. It doesn't take long time so I can keep the habit and really learn something. Finally I found this web. I believe it's good for every Chinese: VoiceTube《看影片學英語》60,000 部英文學習影片,每天更新
VoiceTube is a English learning web found in Taiwan. In the website, you can found tons of English videos in different levels, topics and interest. For example I can search beginner Video about Travelling. They are also sorted by different accent: American, British, Australian and other accents.
有見及此,我真的在網上找一些能訓練英語聽力的網站了,我的打算是能夠每天看一段約兩三分鐘的影片,一來所花時間不多,我比較能堅持,二來我也真的能學習一下。最後,我找到這個網站,我相信對每一個中國人都很有用: VoiceTube《看影片學英語》60,000 部英文學習影片,每天更新

VoiceTube是由台灣團隊創辦,裡面有很多不同的影片,按程度、題材等分類,例如我就可以找一些初級關於旅遊的影片,它還會將影片按腔調再分類:英國腔、美國腔、澳洲腔、其他腔等等。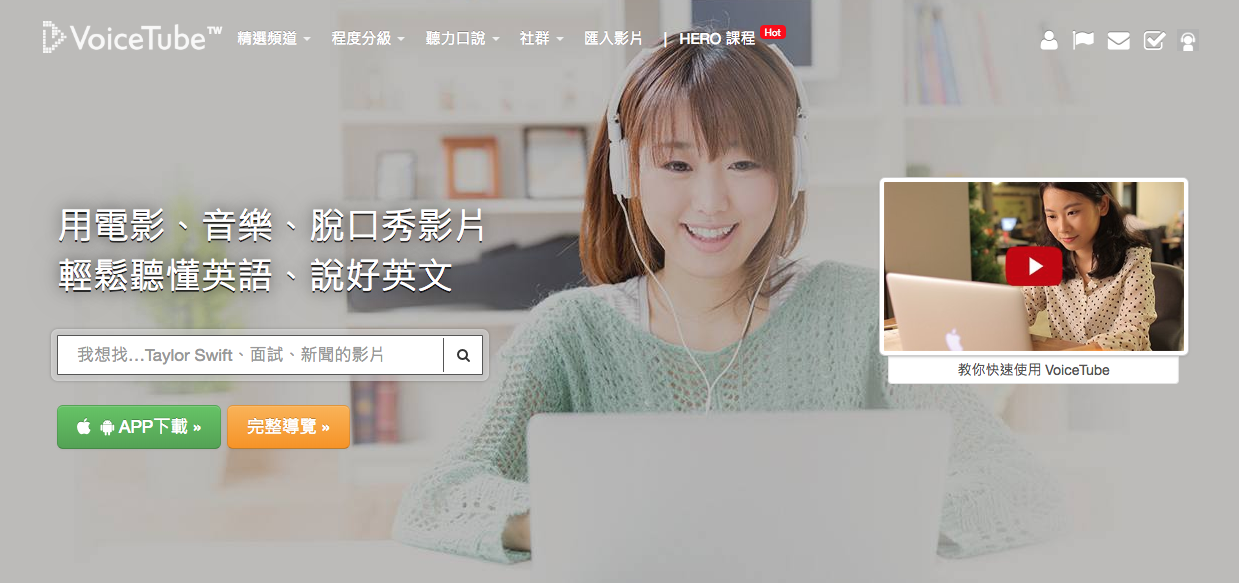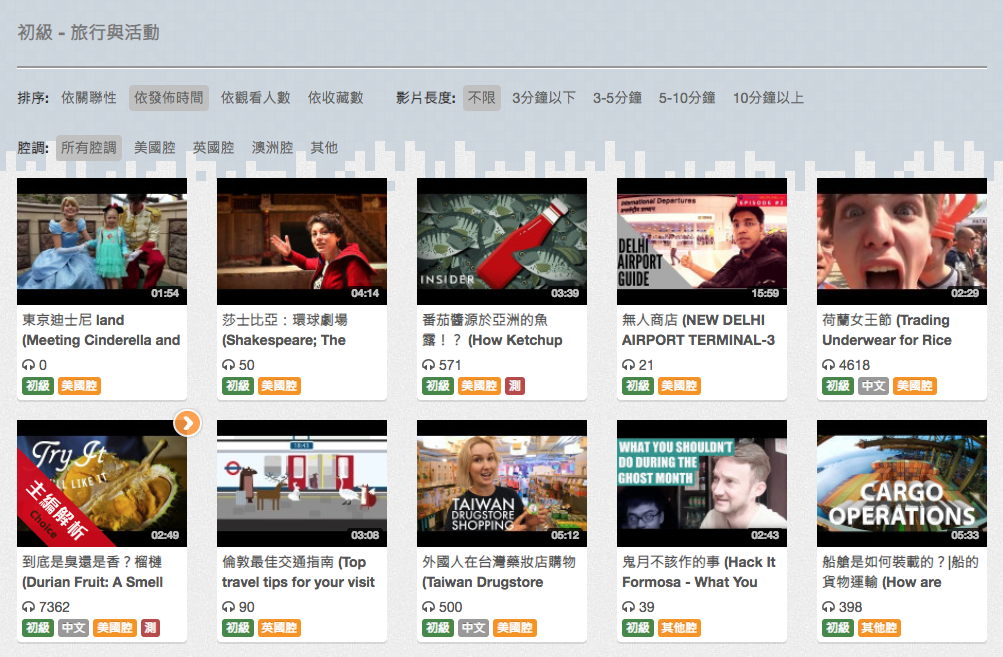 Entering the video page, we can find the whole script at the right. And we can choose to show the Eng and Chi subtitles or not. We can also choose to repeat one sentence again again and again.
進入影片頁,影片的右邊會有整個劇本,在播放影片時,我們可選擇顯示中文及英文字幕,當遇到比較困難的句子,還可選擇不停播放那一句。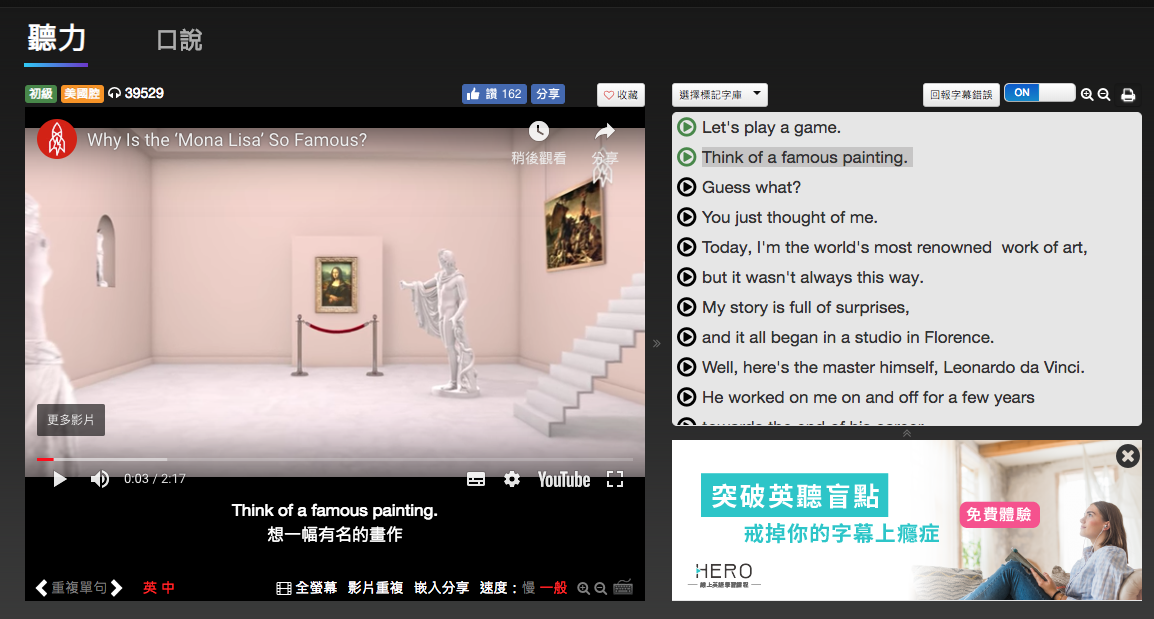 Under the video, there are intense studies of some vocabulary. After studying the video, we can try to speak out the script and record it. Also there is a fill in the blank test.
在影片下面,會有對某些詞語較深入的解釋,在看完影片後,我們可以試試自己讀一次錄音,聽聽自己說得如何,還可以參與填充測驗。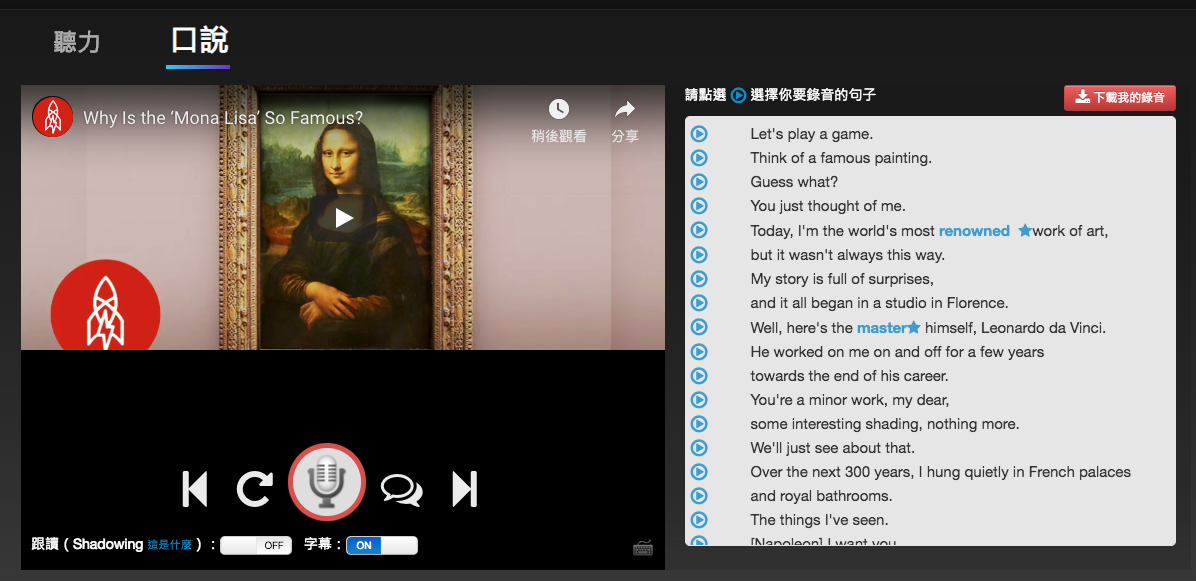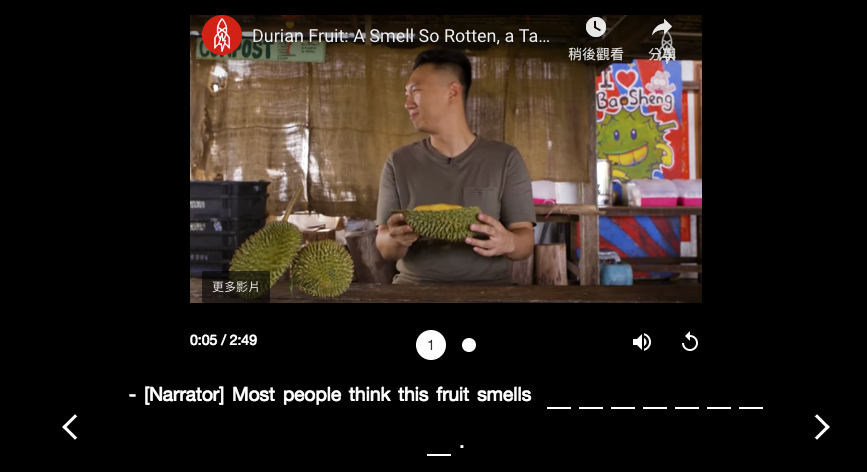 How do I practise? First of all, I watch the video without any subtitle to see how much I understand. Usually for beginner English I understand around 70-80%. Then I watch again with Chinese subtitle to fully understand the script. After that i will watch with English subtitle. Finally I will watch it without subtitle again and again until I can listen every word.
我會如何練習?首先我會在無字幕情況下看完整條影片看看自己聽懂多少,一般來說初級影片我能完全聽懂七至八成吧。然後我會再播,先看中文字幕,明白整條影片在說什麼,之後看英文字幕,了解我聽不懂的部份,最後是不看字幕不停播放,直到我聽懂了每一個字。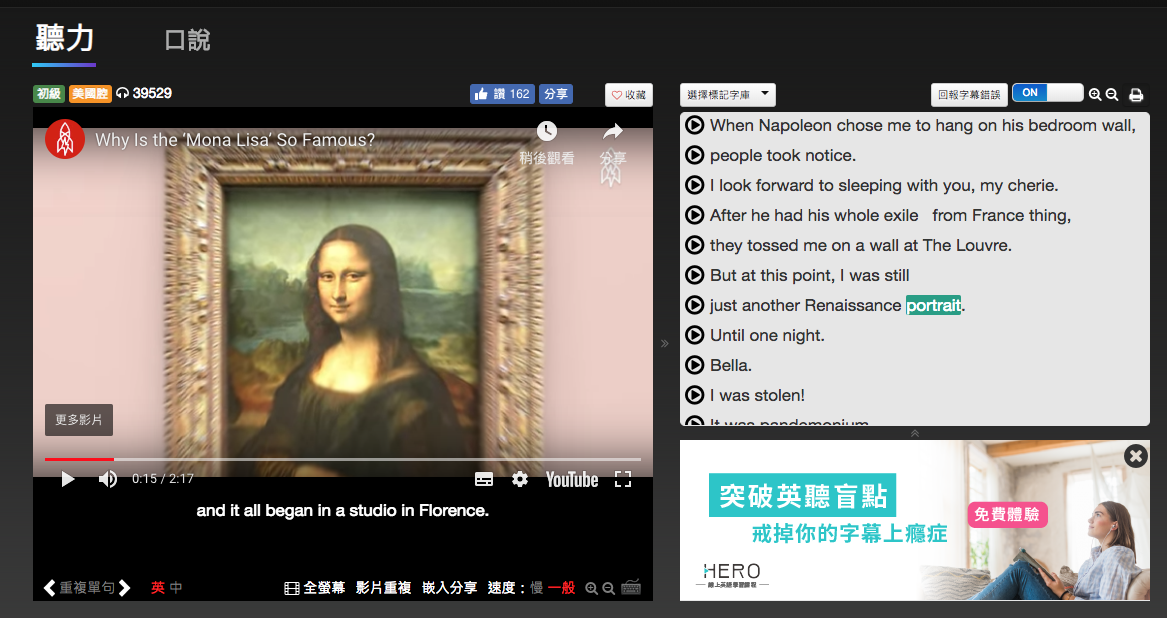 After practising for a few days, I come to a conclusion: my weakness is not my listening but lack of vocabularies and phrases/idioms! I don't understand the word, so how can I listen it out? Take "hit a fever pitch" as example, I fully understand it when I "read" it but I get nothing when I "listen". So, maybe I need to read more English instead of listening practises…..
Anyway, my Chinese firends, it's a good website. Try it!
練習了幾天,我得出了一個結論:我其實不是聽力不行,而是詞彙不足…..當我都不知那個字,又如何聽懂…..尤其是一些慣用語,如hit a fever pitch,如果是閱讀的話,我是懂的,但因不常用,到我聽的時候,就聽不懂了….所以,可能我倒是應多看英文雜誌、文章,而不是練聽力…..

不過,這個網站真的不錯,想多練習英文的話,不妨玩一下!!
---
Thanks for spending your time to read my articles. I like to share stories of Hong Kong. I wish you may support me and I will keep going!
謝謝你能抽空閱讀這篇文章,我平日喜歡分享香港的故事,希望大家多多支持,我會繼續努力!