The Dance Trip to Shanghai (2) – Tianzifang 上海舞蹈之旅(2) – 田子坊
none

The 2nd day journey, I got some free time in the afternoon and took some visits. Longtang is the construction that I am most interested in and so I visited three Longtangs. Under the evolution of time, the three Longtangs have come out of different fates.
在旅程的第二天,下午有一點的空檔時間,我就去了附近參觀。弄堂,是我對上海最有興趣的地方,我一下子參觀了三個弄堂,在歲月的演變下,三個弄堂走出了不同的命運。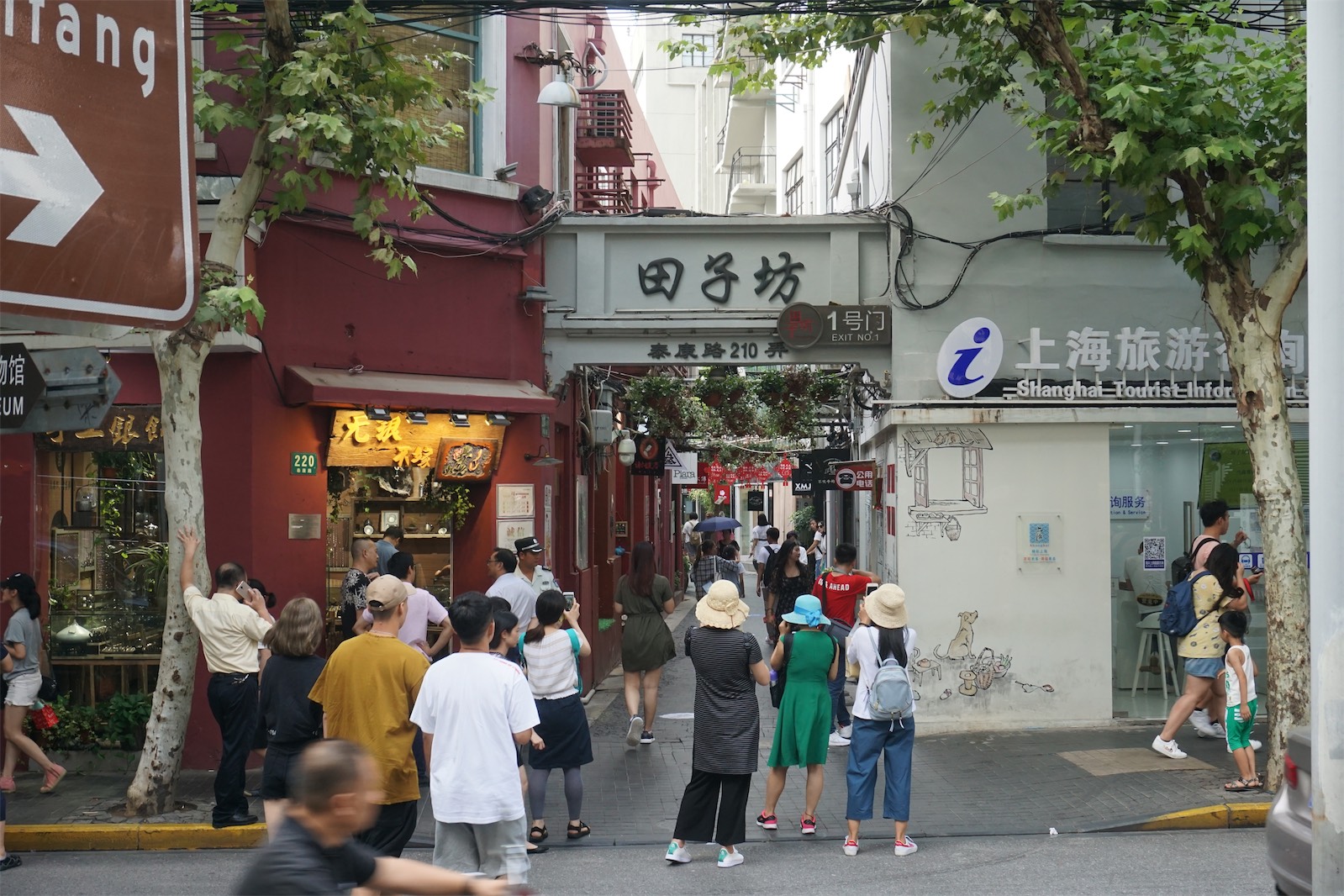 Longing is a traditional community composed of alleys in Shanghai, just like Hutong of Beijing, or Tonglau in Hong Kong. It is the major residential area of Shanghainese, as well as the culture from the late 19th century to late 20th century. With the development of the society, Shanghai now is full of high buildings and many Longtangs have been rebuilt.
The three Longtangs I visited were Tianzifang, Xintiandi and Cite Bourgogne. Today I will talk about Tianzifang. Tianzifang is located at Taking Road, Huangpu Districk, just next to the Dapuqiao Station. Tianzifang was built in around 1930, in the French Concession. It is a residential area for the ordinary Shanghai residents. The Chinese style living culture, coupled with a little Western style architectural style, had gradually formed a unique style. In the late 1990s, a group of artists began to live in Taking Road, and later different cultural shops and studio joined also, reforming Takang Road to be a new cultural and art district.
弄堂是上海一種由小巷組成的傳統社區,就等同於北京的胡同、廣東的唐樓群等,是上海十九世紀末到二十世紀末中,上海居民主要生活的地方及文化。隨著社會發展,今時今日的上海高樓林立,很多的弄堂都已經不見了,剩下的都已被改建。

我參觀的三個弄堂分別是田子坊、新天地及步高里,今天先說一說田子坊。田子坊位於上海黃浦區的泰康路,在打浦橋站一出就是了。田子坊建於1930年,位於當年的法租界內,是普通上海居民居住的小區,中式的生活文化,加上一點點西式的建築特式,漸漸形成了獨突的風采。到了90年代後期,有一批藝術家開始進駐泰康路,慢慢的就有不同的文化店、晝廊等加入,成為了一條新興的文化藝術區。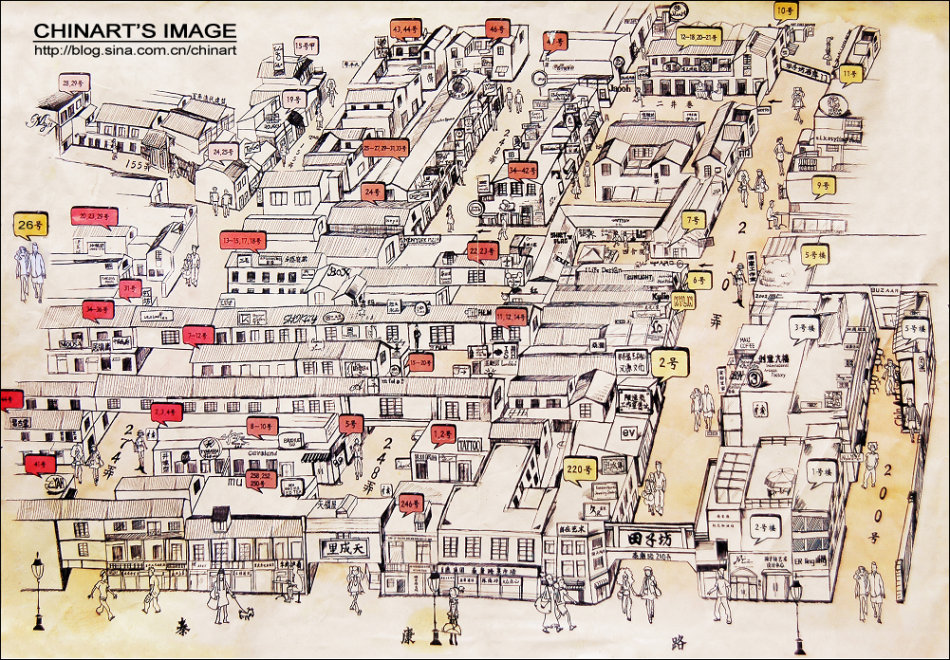 Floormap of Tianzifang
According to my friend, the government had taken a fancy to this place and transformed the Road to a new creative industrial zone at around 2000. The name of Tianzifang is taken from the name of Tian Zifang, the oldest painter of China mentioned in the 《Records of the Grand Historian》, which symbolises the long-term development of the art zone. Today, Tianzifand is one of the most famous tourist point in Shanghai.
據我的朋友說,政府因此而看中了這個地方,在大約二千年將泰康路改造活化,變成了今天的創意產業區。田子坊的名字,取於《史記》所述中國最年長畫家田子方之名,寓意其藝術的長遠發展,時至今日,田子坊已是上海最著名的旅遊區之一。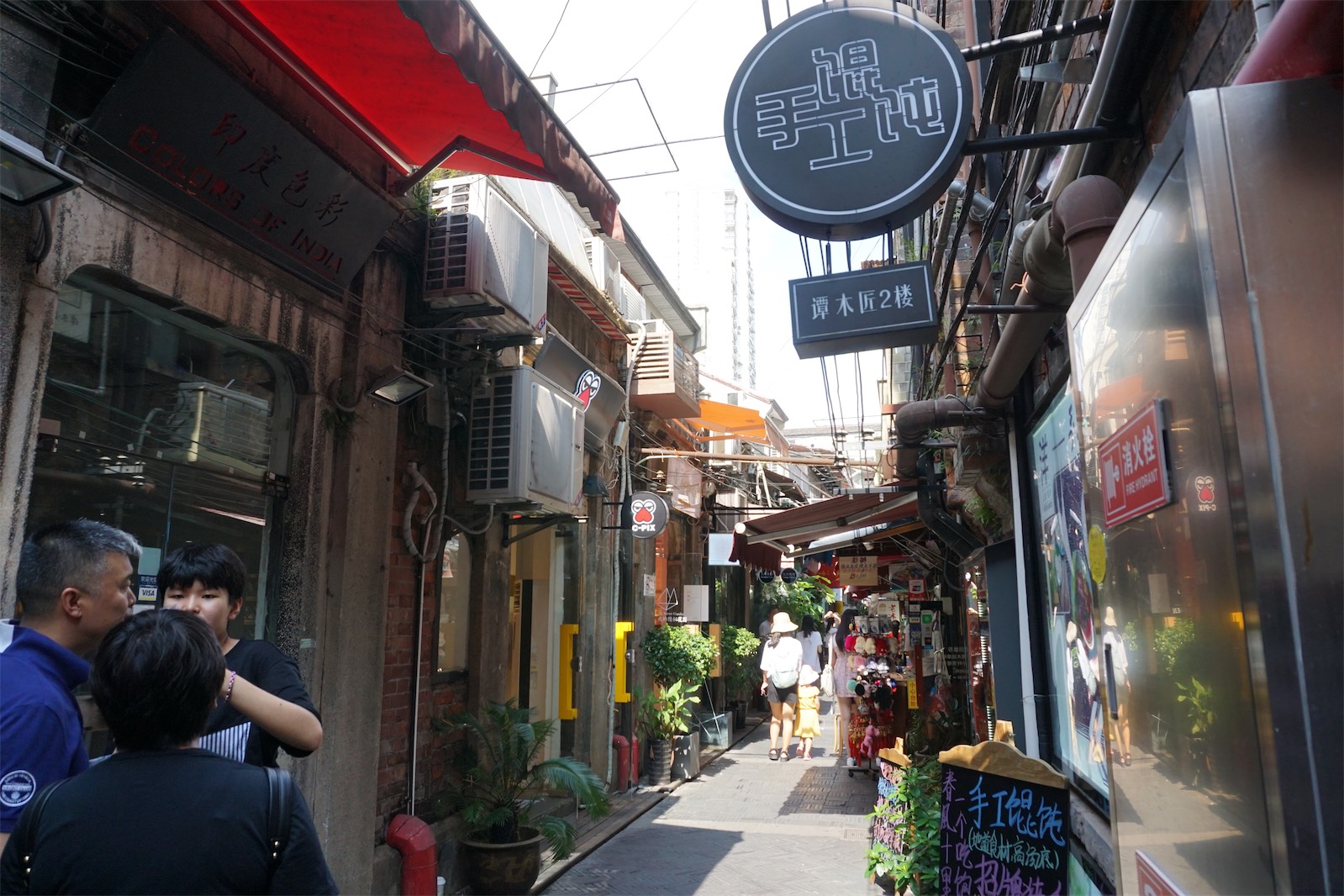 As a tourist, I already wanted to leave when I just entered Tianzifang. it's because there were too many people!Tianzifang is full of narrow alleys. On both sides of the alley were two-to-three storey buildings. Most shops are at the ground floor and some are upstairs. The most popular store in Tianzifang should be restaurants and souvenirs shops.
作為遊客的我,甫一進入田子坊,卻已有想離開的感覺,因為太多人了!!!不過一場到來,我唯有硬著頭皮進入。田子坊裡全是橫街窄巷,左右兩旁的是約兩至三層高的樓房,大部份商店置於樓下,亦有一部份是在樓上。田子坊裡最多的店,應該是餐廳和特色店,即是賣紀念品的地方了!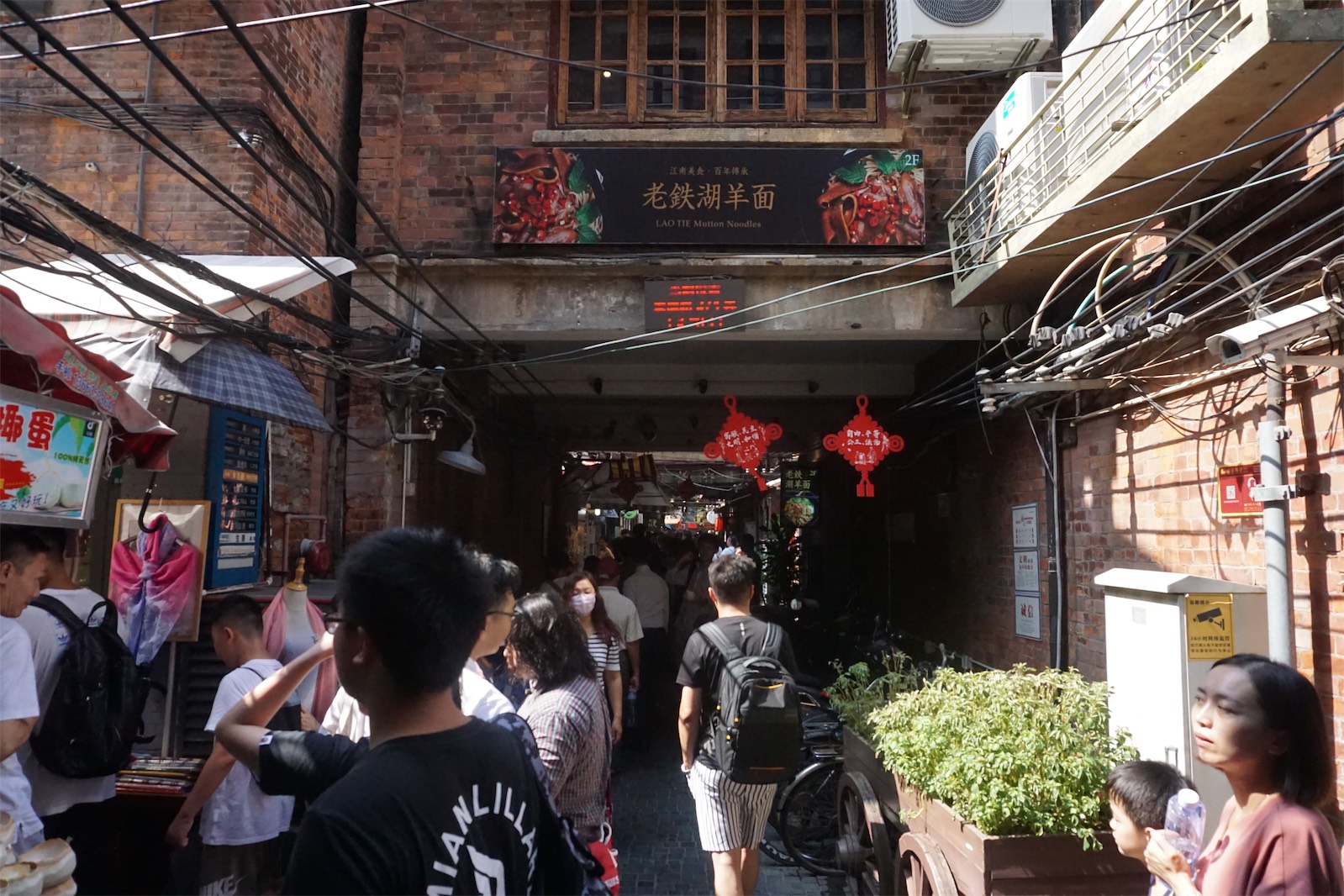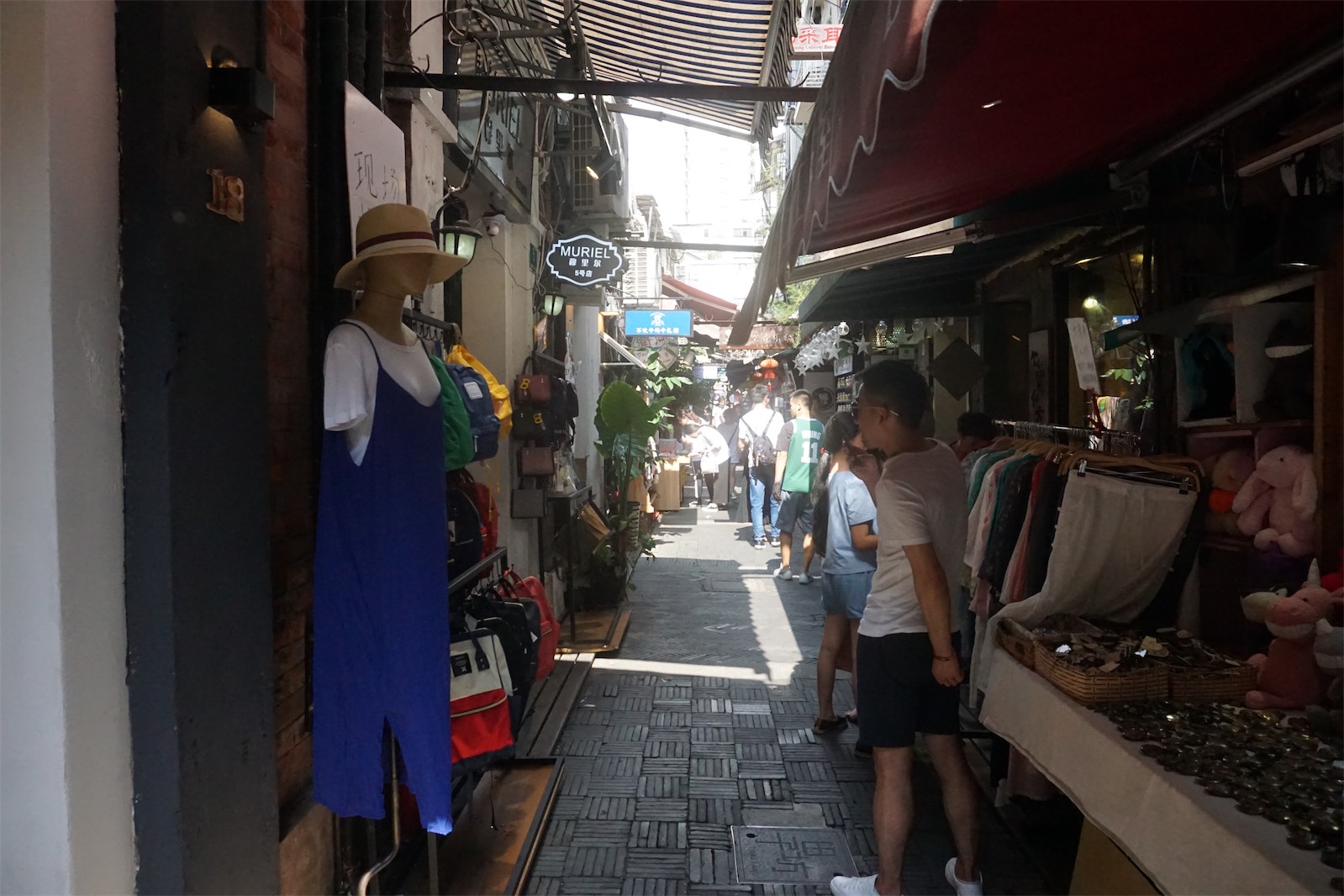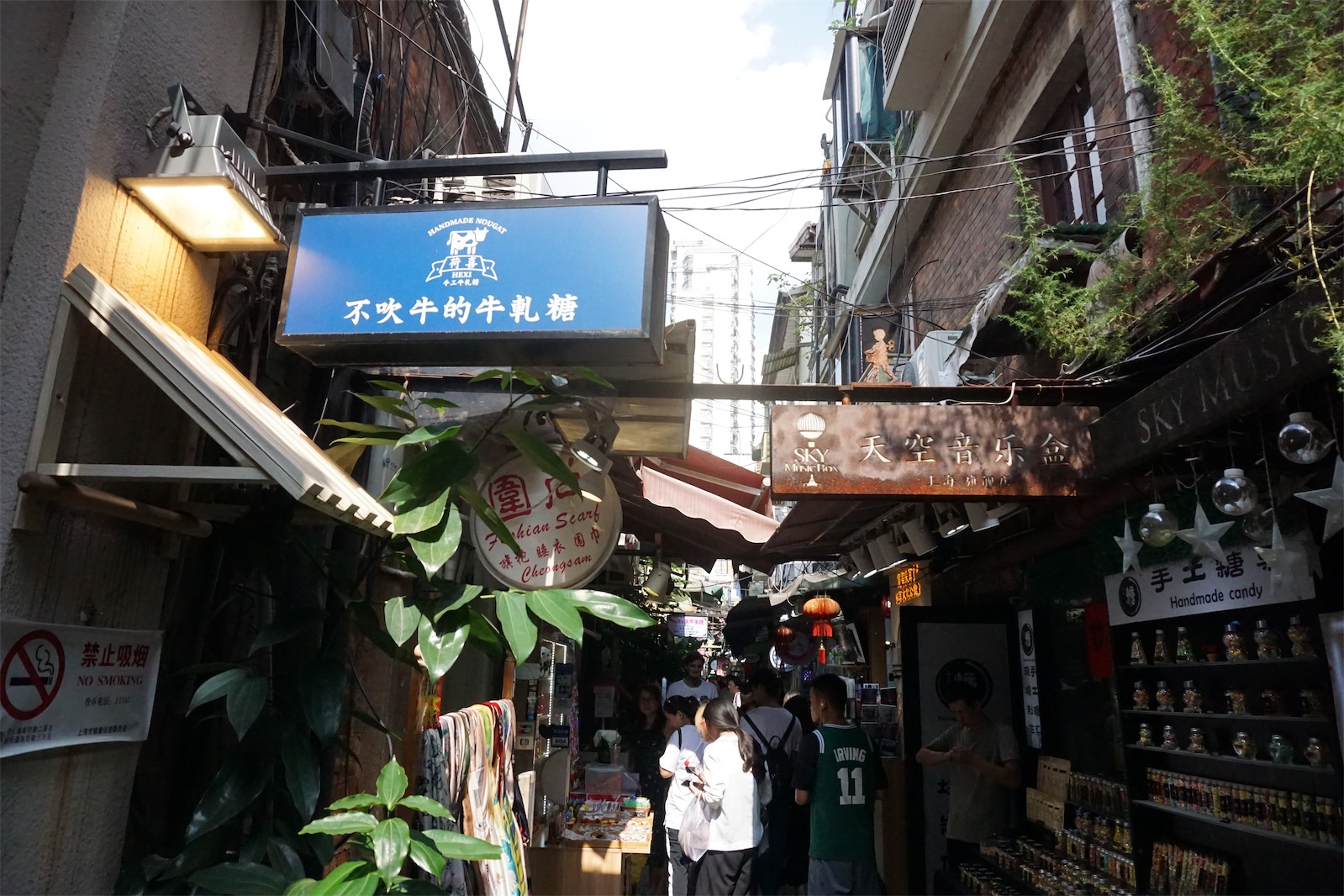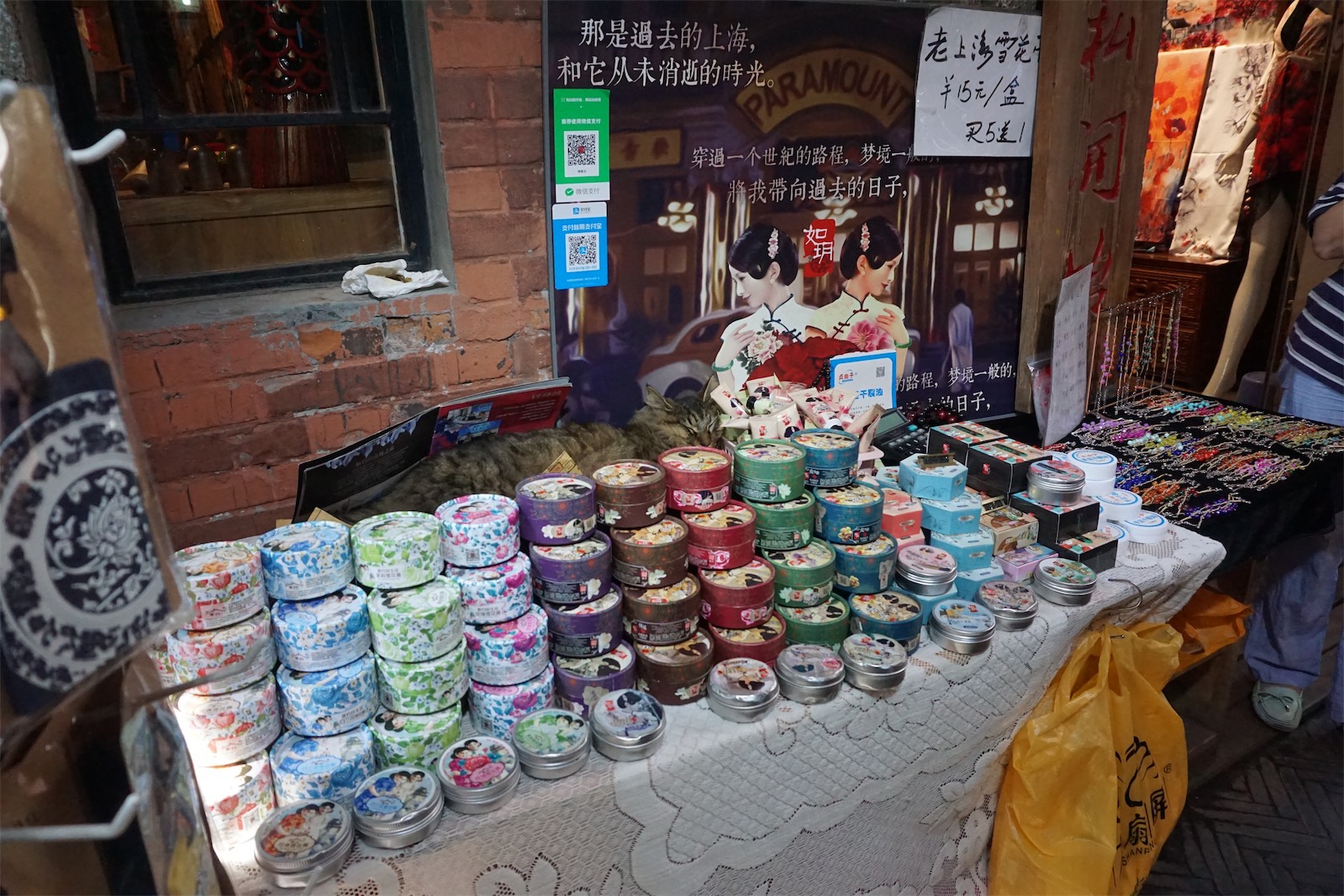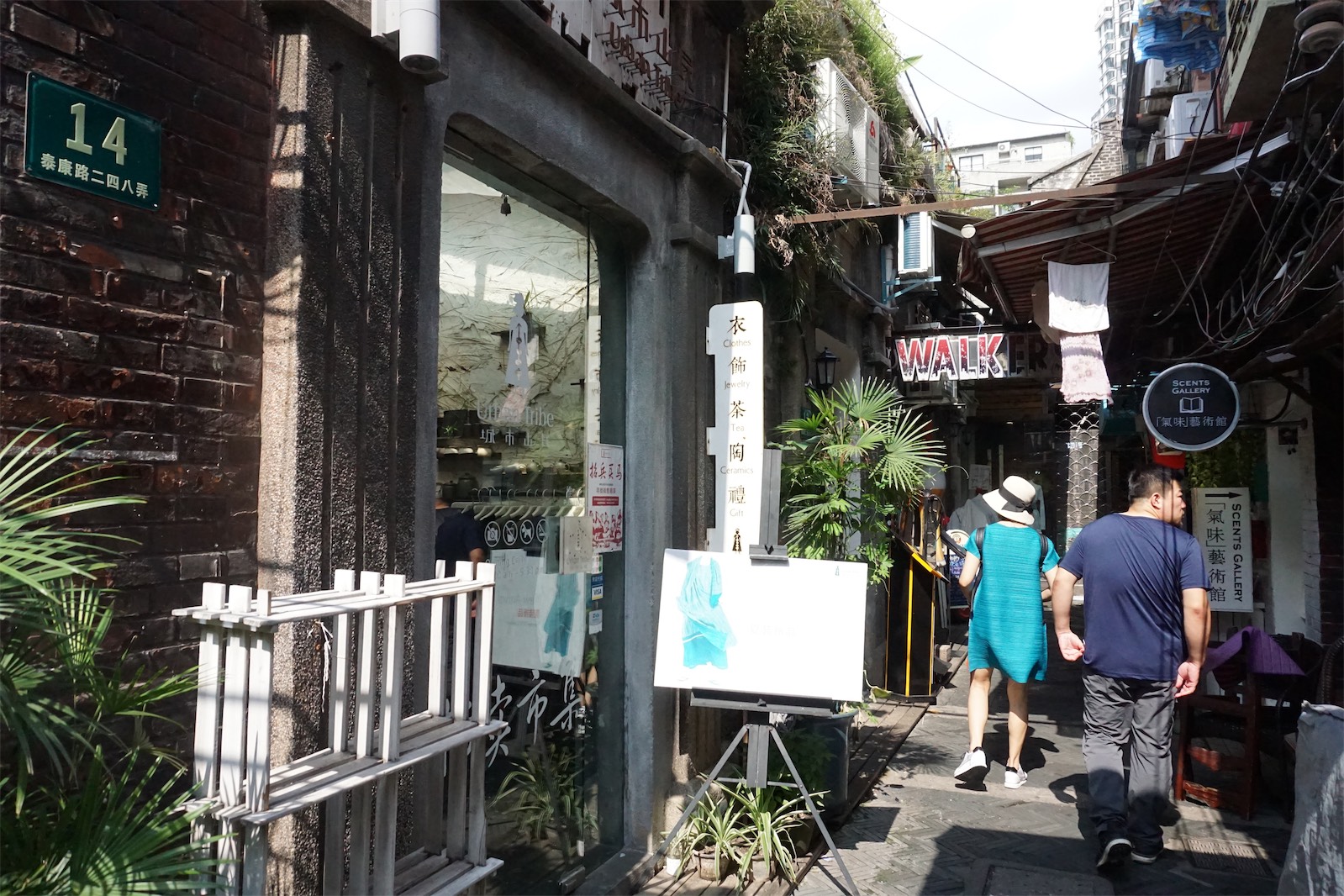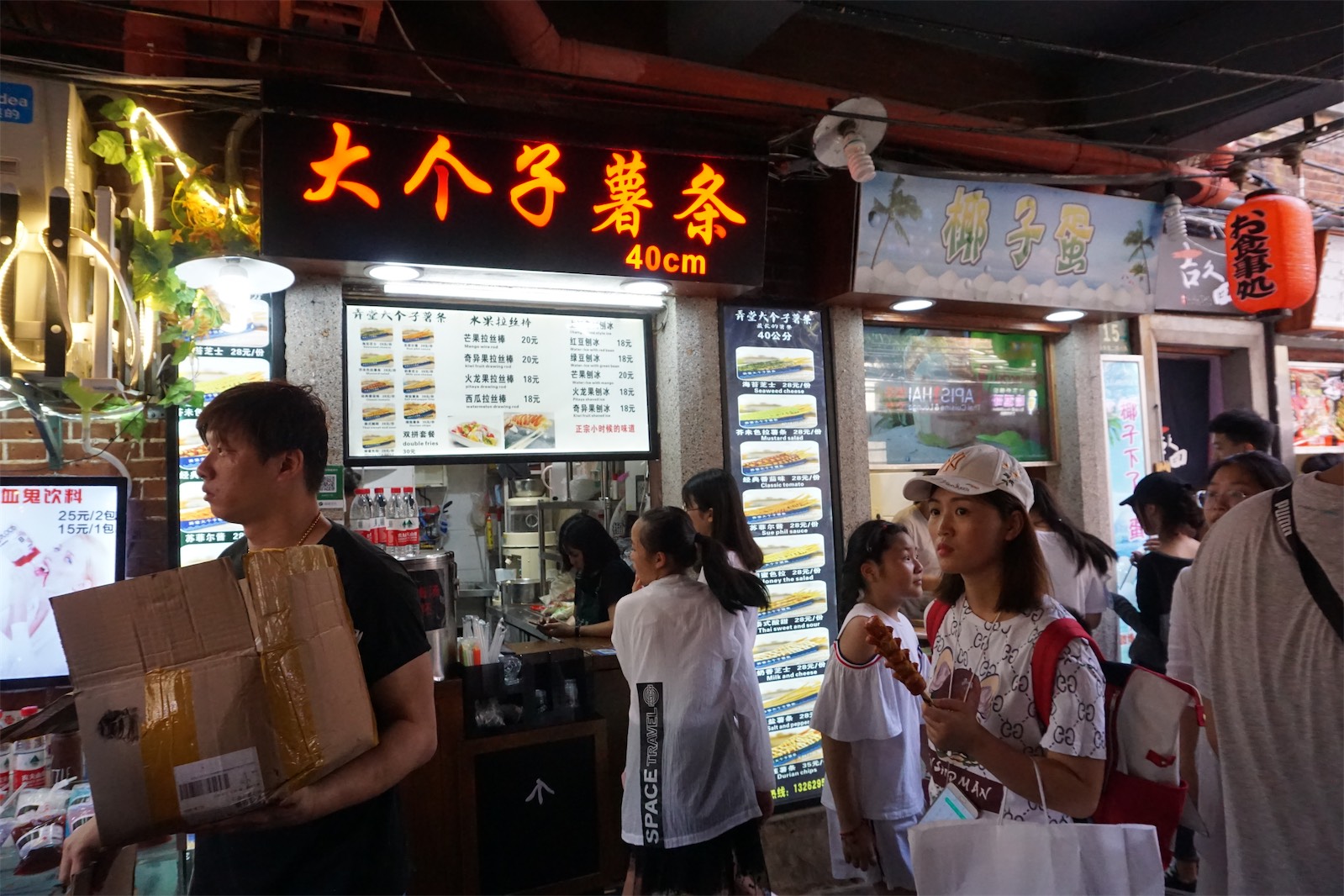 And artists? I couldn't find it. maybe they are hiding upstairs. But I didn't think they can focus on work at the place which is so crowded and noisy. According to my friend, after the government participated in the development of Tianzifang, the artists couldn't stand for the high rent and left. I don't know it's real or not.
至於藝術家?對不起,見不到,可能躲在樓上吧,但我不認為這麼人多熱鬧的地方,他們能夠靜下心來創作。據我朋友說,政府參與到田子坊後,藝術家們都捱不住急升的租價而離開了,事實是否如此我卻不得而知了。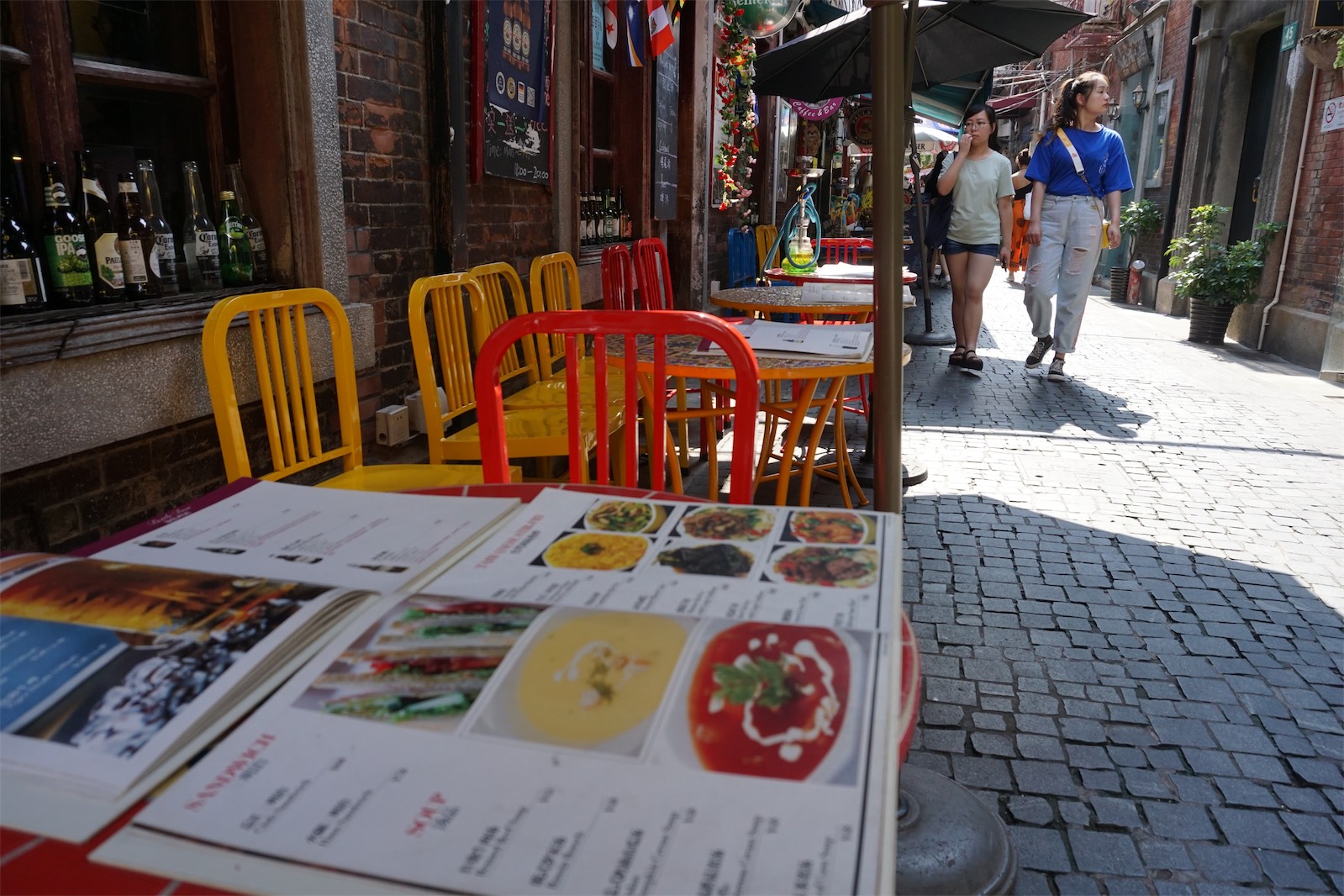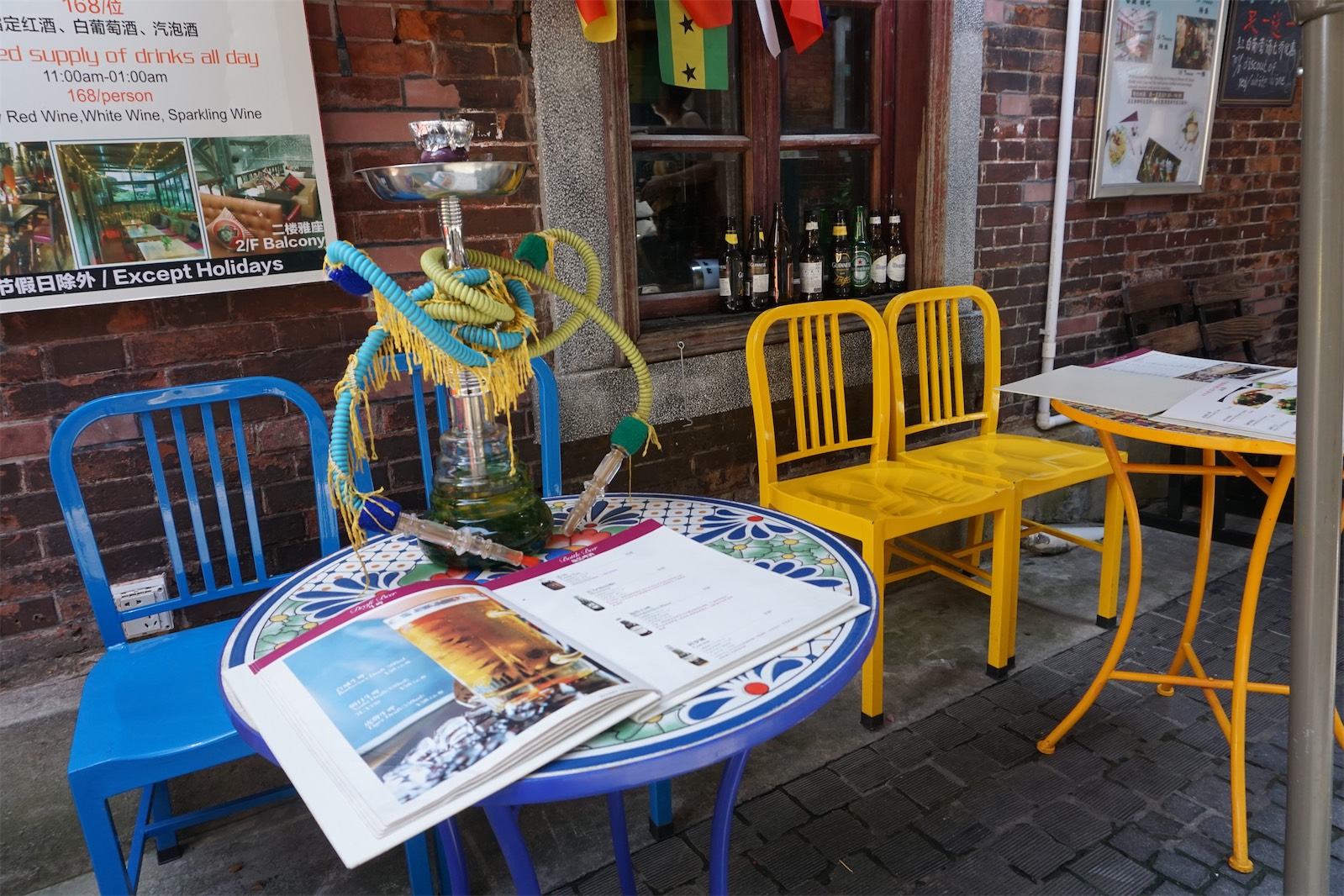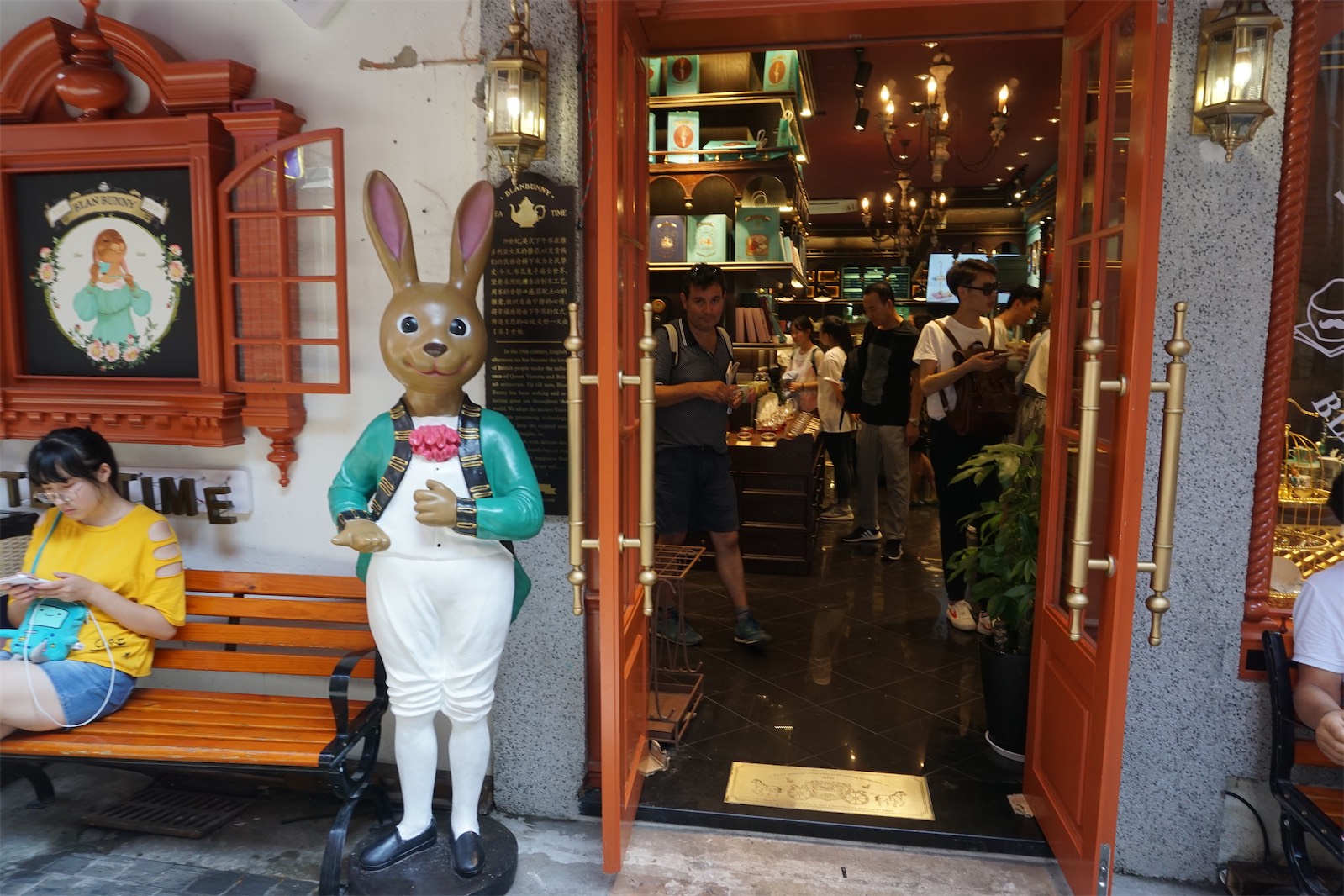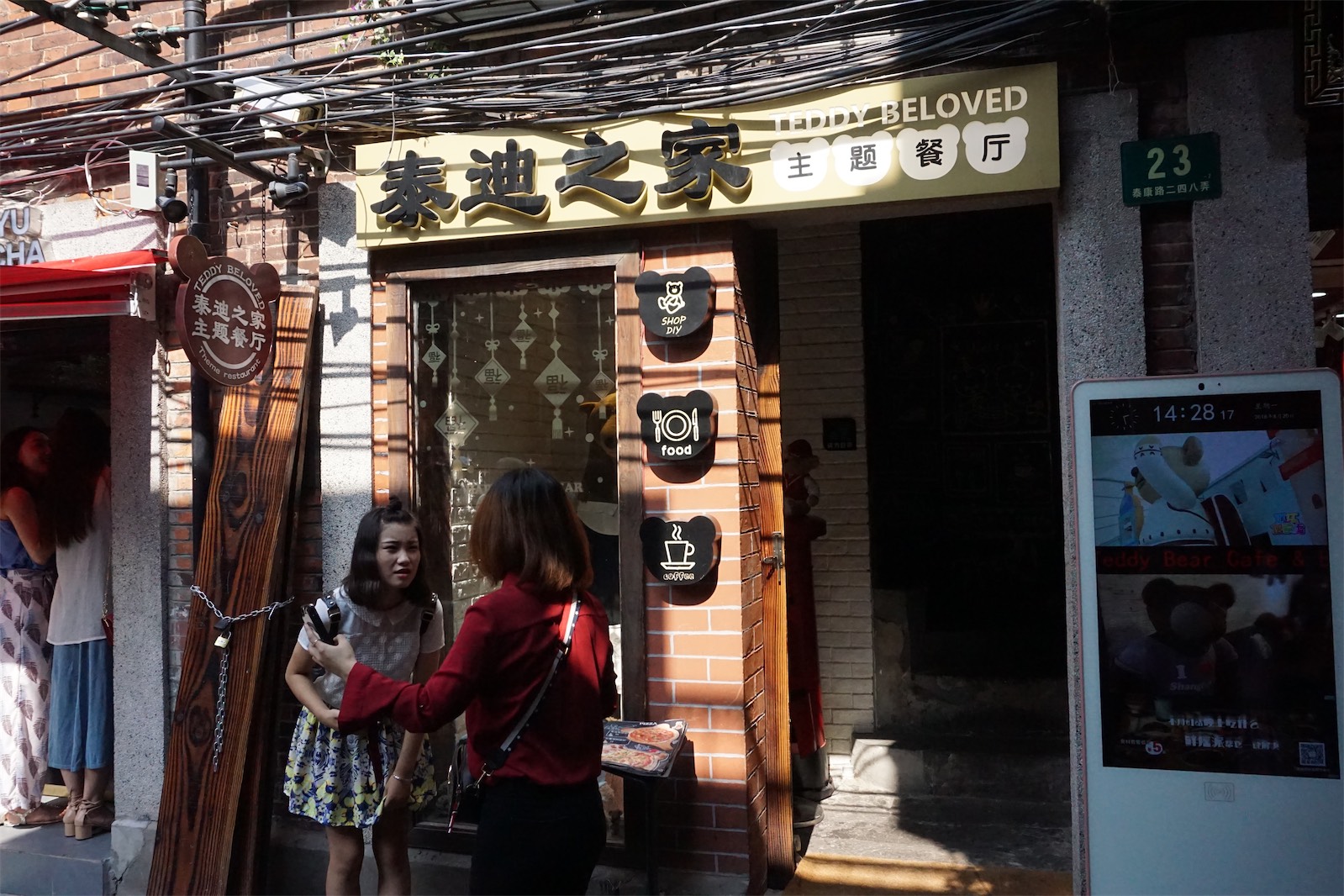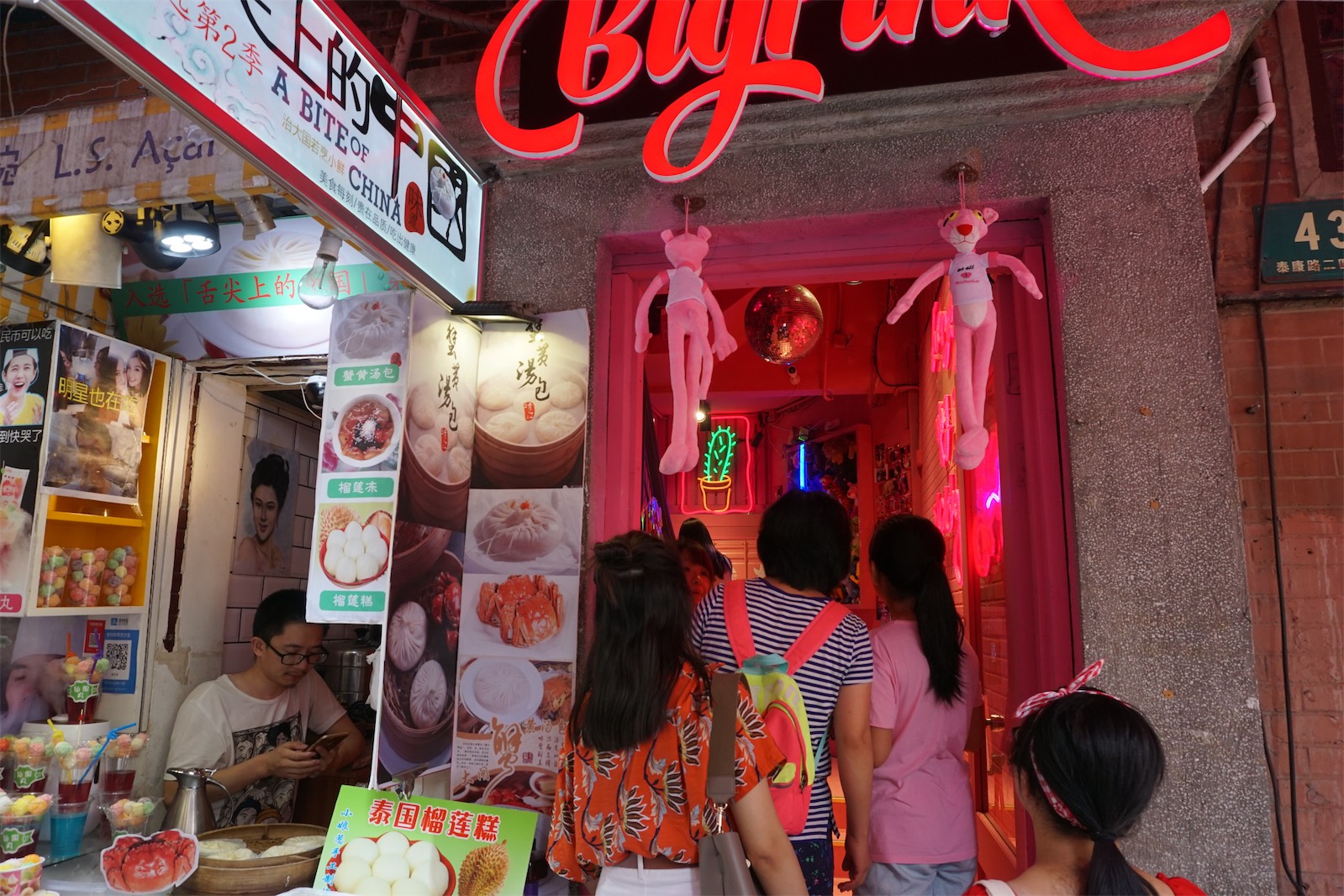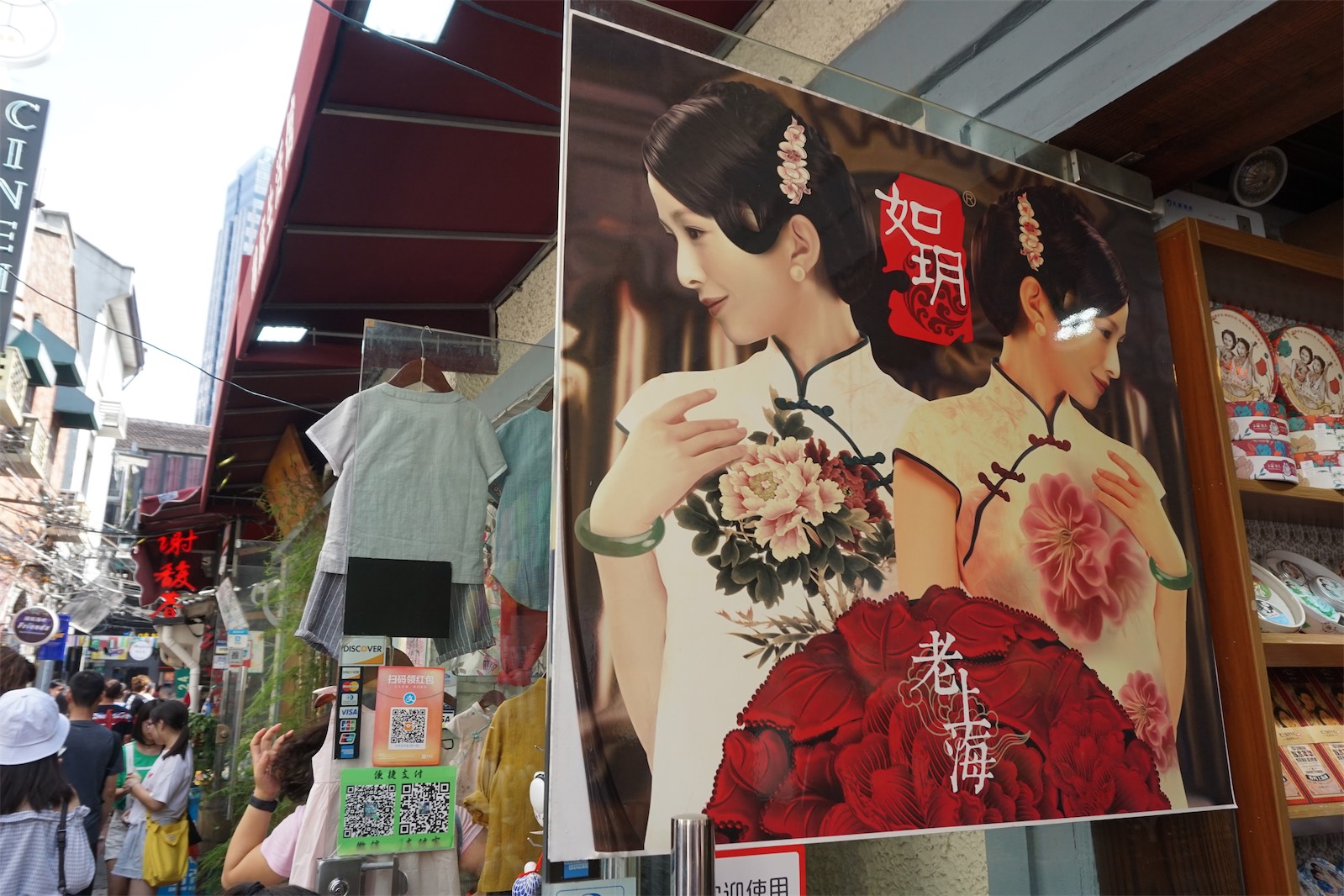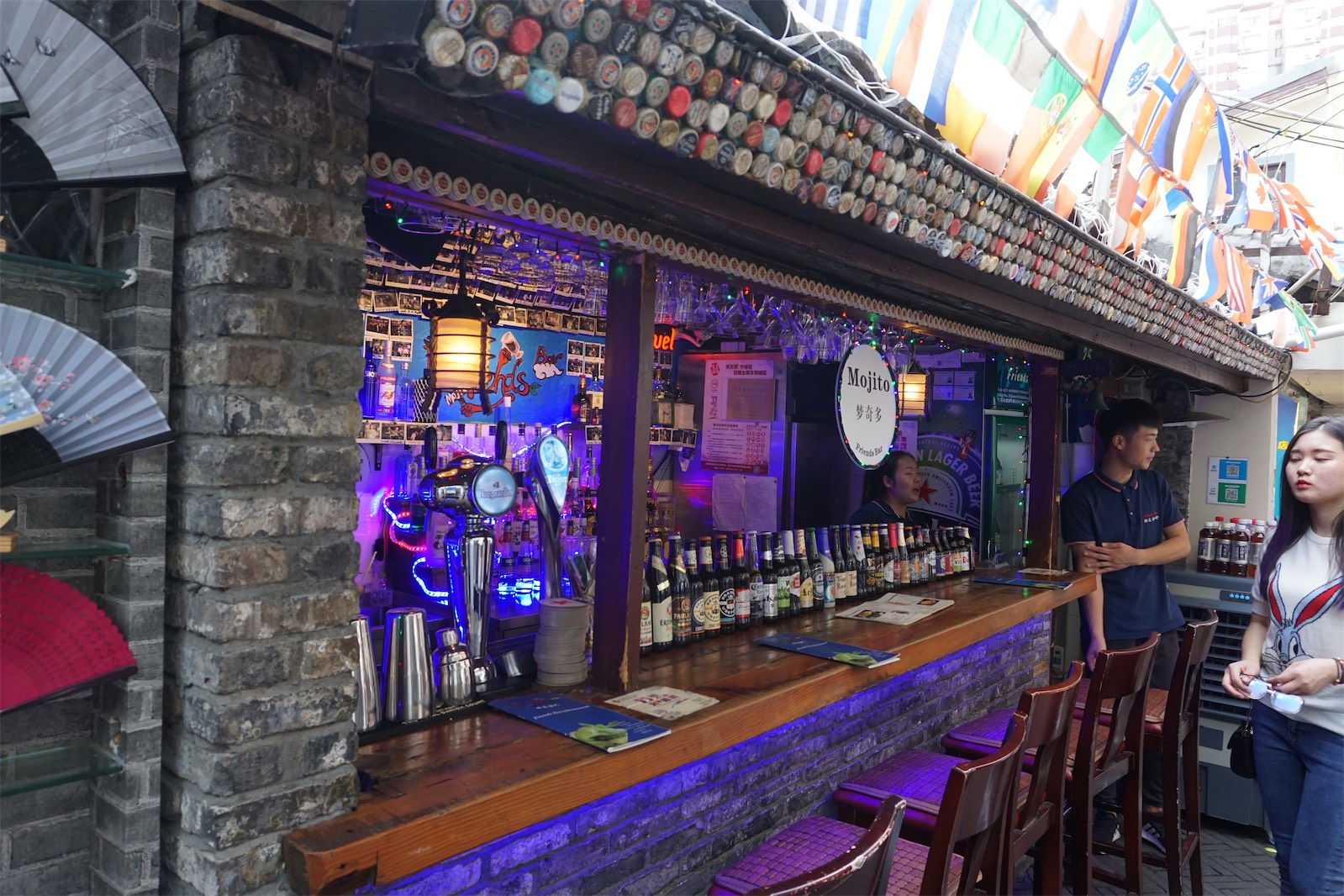 The most interesting in Tianzifang is the feeling of finding what is waiting for you in the next alley. They are too many short alley and you will never what is waiting for you. Of course, I was not interested in those little souvenirs. What I was most interested was the board of "commonly used Wu Chinese" (dialect of Shanghai). If there is chance, I also want to hang some board of "Commonly used Cantonese" in Hong Kong!
在田子坊裡最有趣的地方是尋幽尋秘的感覺,因為小路縱橫,你往往不知道小巷盡頭轉角處會有什麼店。當然,我是對那些小紀念品沒有興趣的,我最感興趣的卻是那些寫著「常用吳語字」的牌子,如果有機會,我也想在香港找地方掛一些「常用粵語字」的牌子!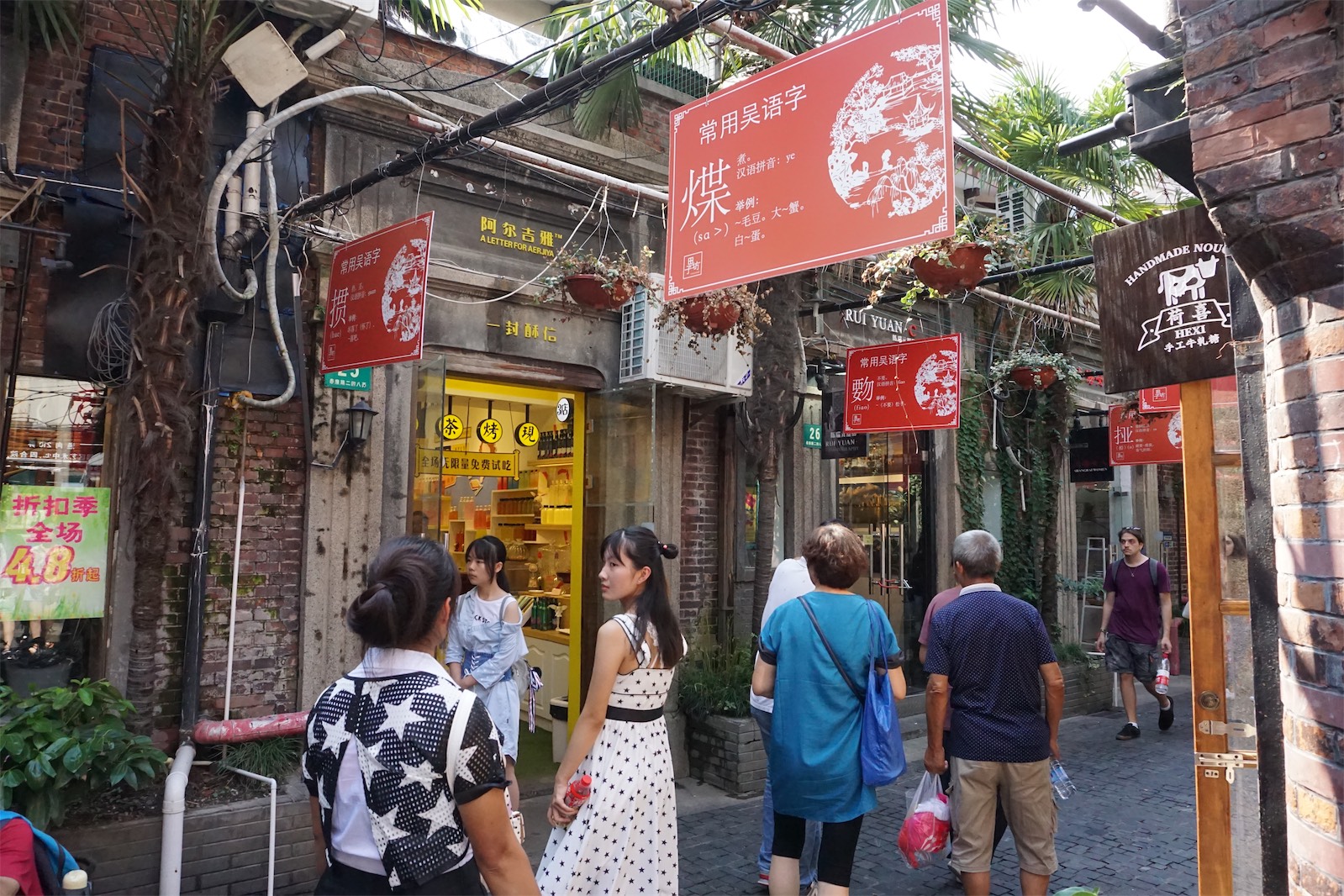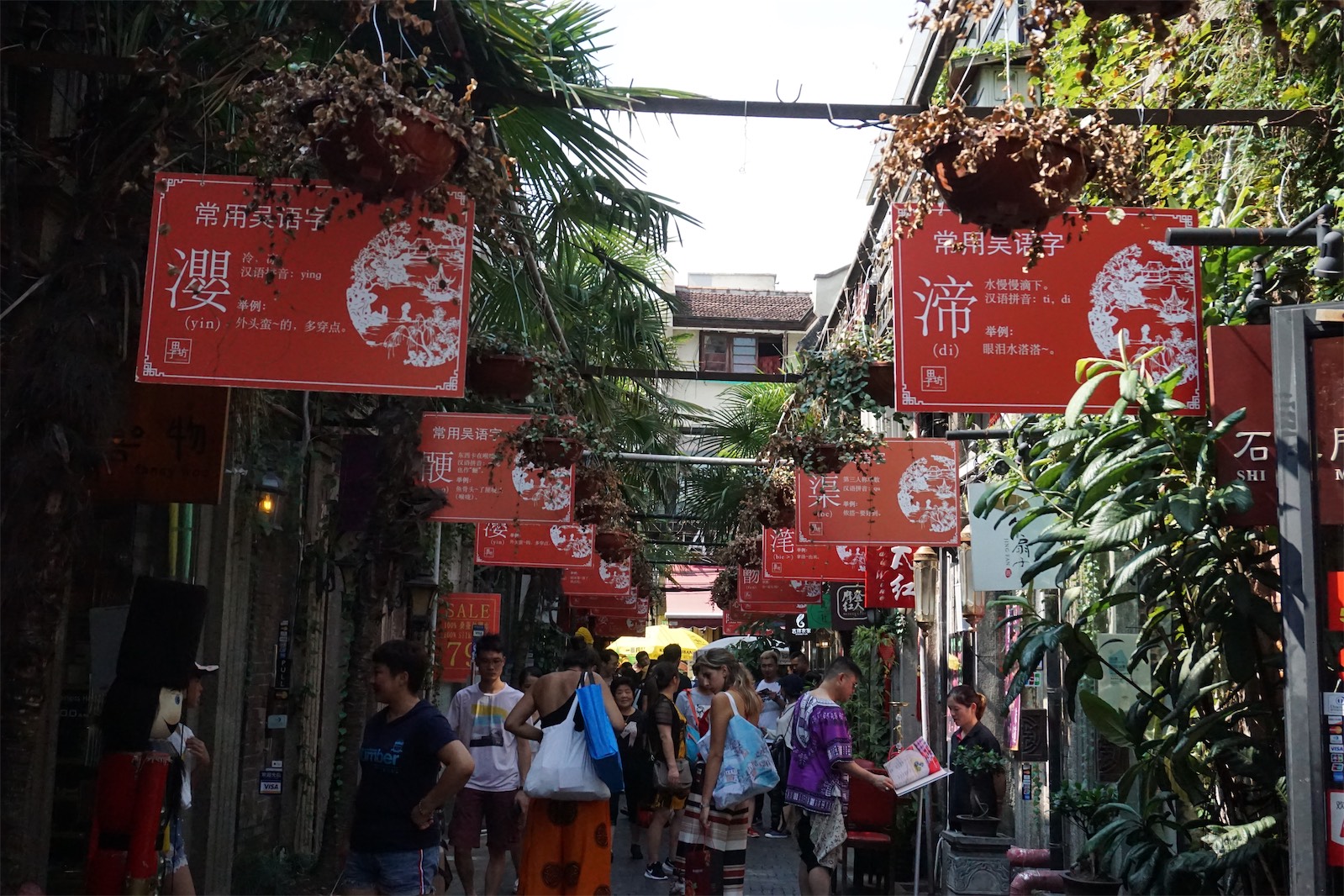 Most people may take an hour of two to walk through Tianzifang. But I left after 30 minutes as I am really afraid of crowded place. Before leaving, I saw a mural depicting the life of the old Shanghainese in Tianzifang.
對於一般人可能要走一兩個小時的田子坊,我不到三十分鐘就走了,因為我真的很怕人多,臨走前看到了一幅壁畫,記述了以前上海人民在田子坊的生活。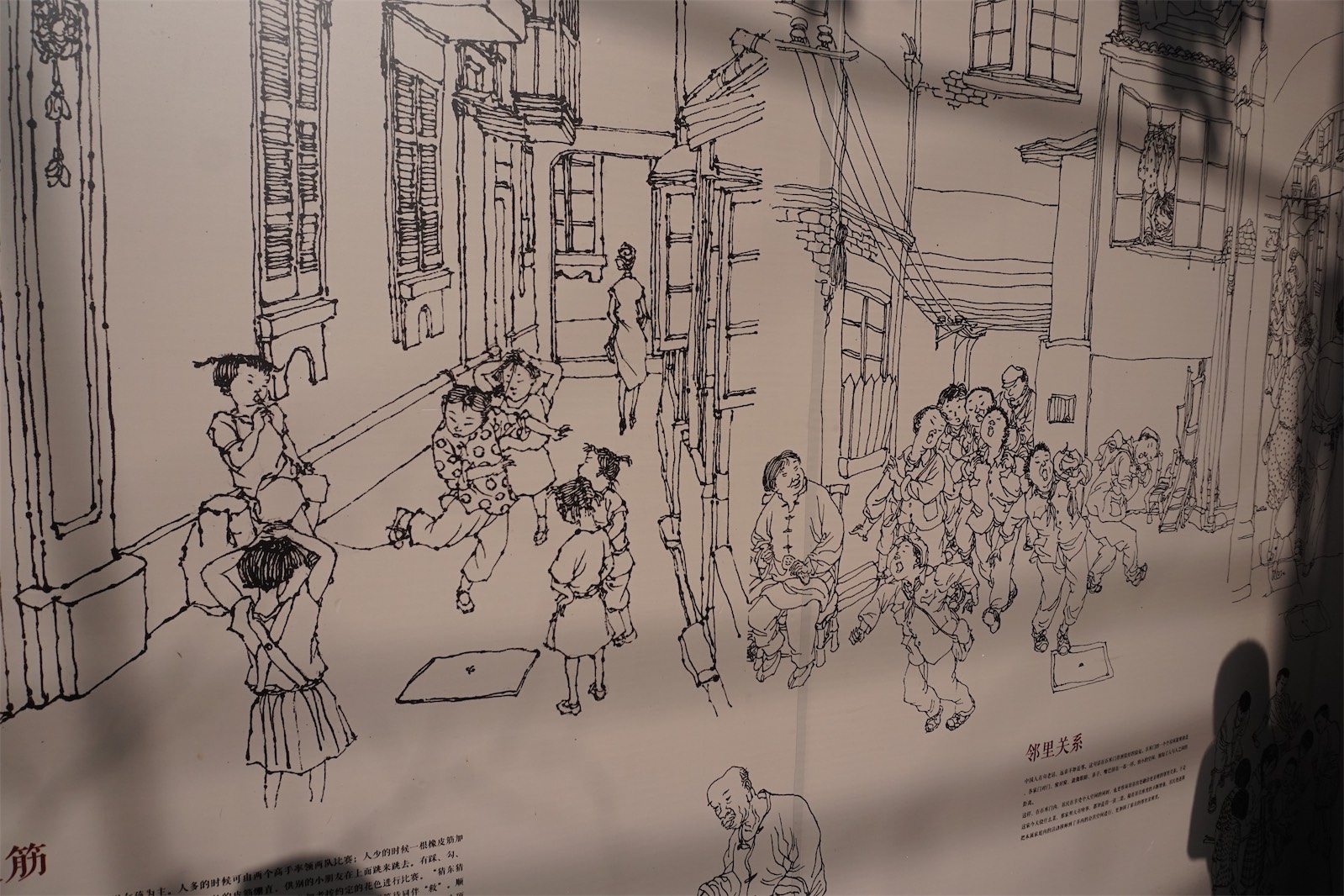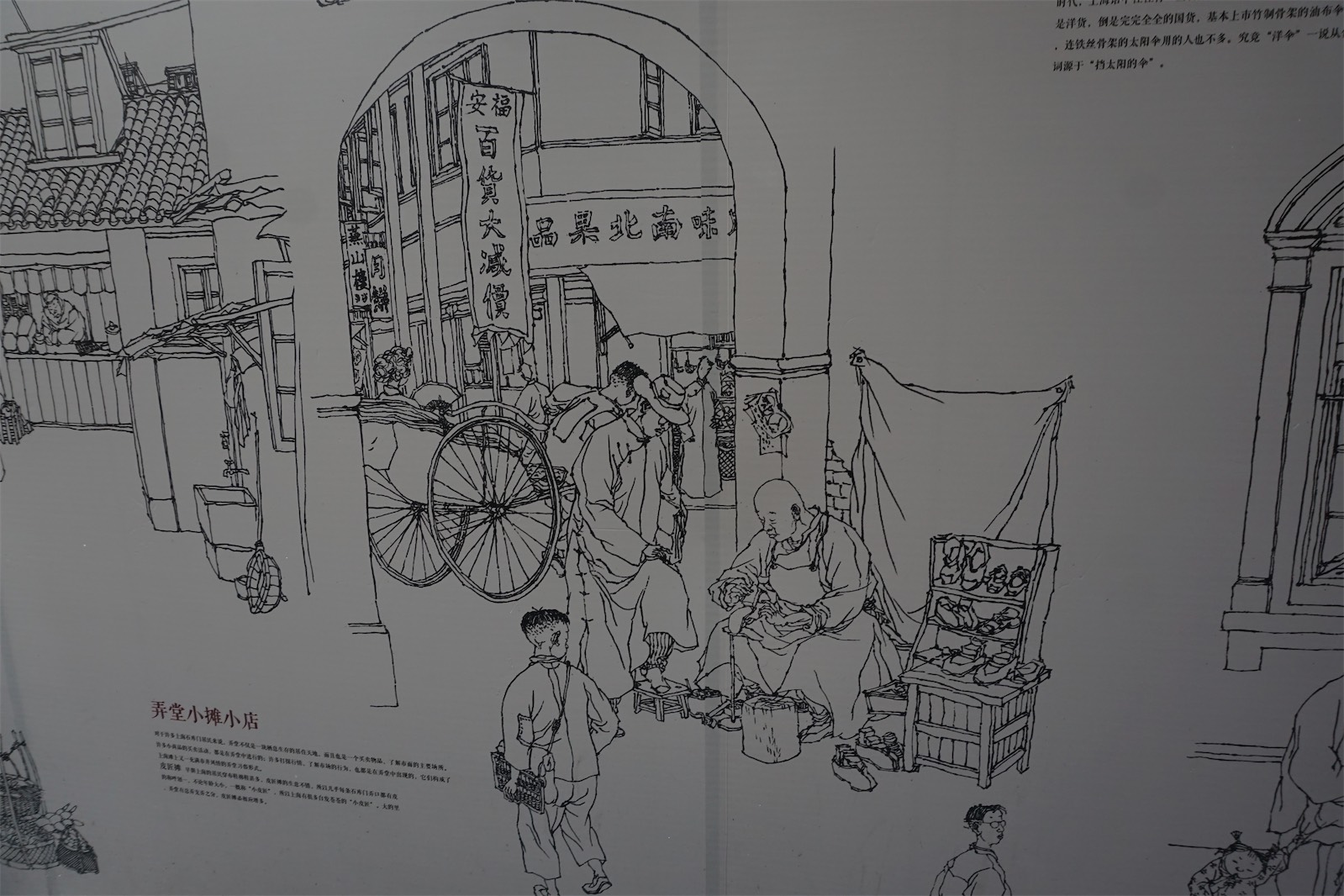 Tianzifang is a better development for Shanghai Longtang. At least it is reserved and now plays another function. In the next post, I will visit Cite Bourgogne, another alley with a different fate from Tianzifang.
田子坊是上海弄堂一個比較好的歸宿,至少它接近被完全保留,發揮出另一個功能,不過,應該是沒有什麼人住了。下一站,我去的是步高里,與田子坊截然不同命運的另一個弄堂。
!steemitworldmap 31.208812 lat 121.4667093 long d3scr
---
Thanks for spending your time to read my articles. I like to share stories of Hong Kong. I wish you may support me and I will keep going!
謝謝你能抽空閱讀這篇文章,我平日喜歡分享香港的故事,希望大家多多支持,我會繼續努力!