HK Snapshot(106) – Hoi On Cafe, one of the oldest Cha Chaan Teng in HK 香港隨拍(106) – 海安咖啡室,全港最老茶餐廳之一
none

Since I moved to Sheung Wan for work, I started to look for good restaurants in Sheung Wan. One day I found this old restaurant representing the old Hong Kong – Hoi On Cafe.
自從移師到上環工作,我開始尋找附近的美食,有一天,我找到了這一間完全是代表老香港生活的茶餐廳,海安咖啡室。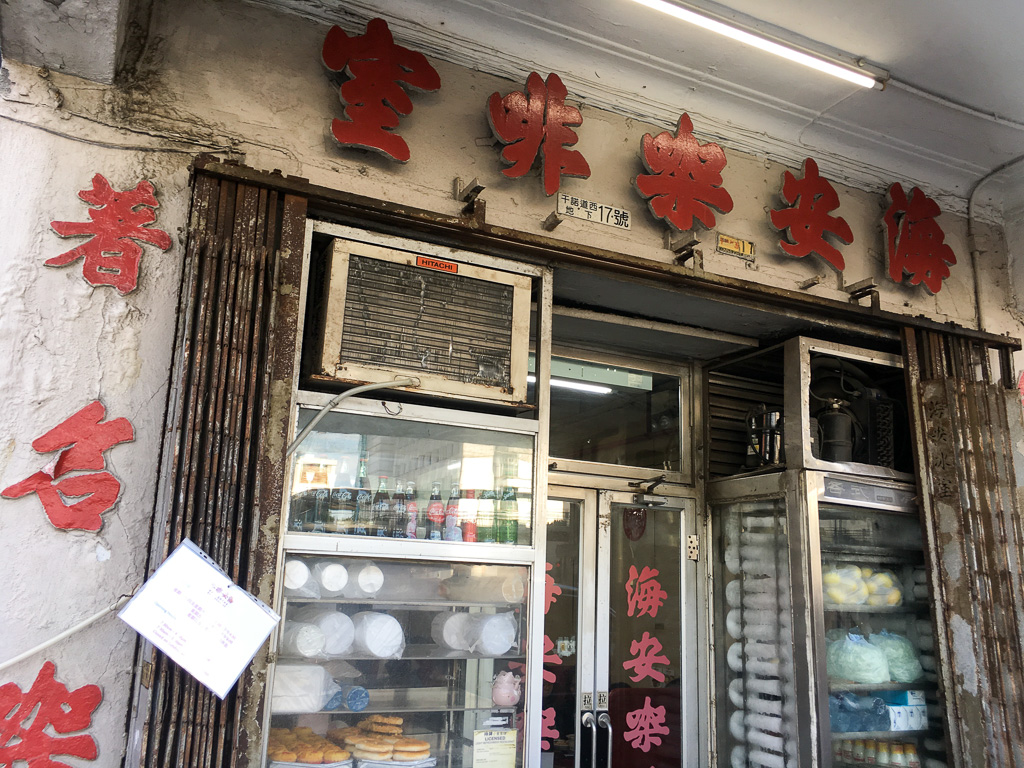 Hoi On Cafe is a traditional old Hong Kong style Cha Chaan Teng. Cha Chaan Teng means restaurant in Cantonese. Hoi On Cafe was opened in 1952. It is located next to the old Triangular Pier and it's the reason the name "Hoi On" comes from. "海安 Hoi On" means "safe sea" in Cantonese, which wish customers who were mainly sailor a safe trip.
海安咖啡室是傳統港式茶餐廳,或你也可以叫它冰室吧。海安於1952年開業,名稱由來是因為它以前是在海邊,靠近三角碼頭,很多船工水手都來這裡吃飯,所以它就改了「海安」這名字,寓意「海上平安」。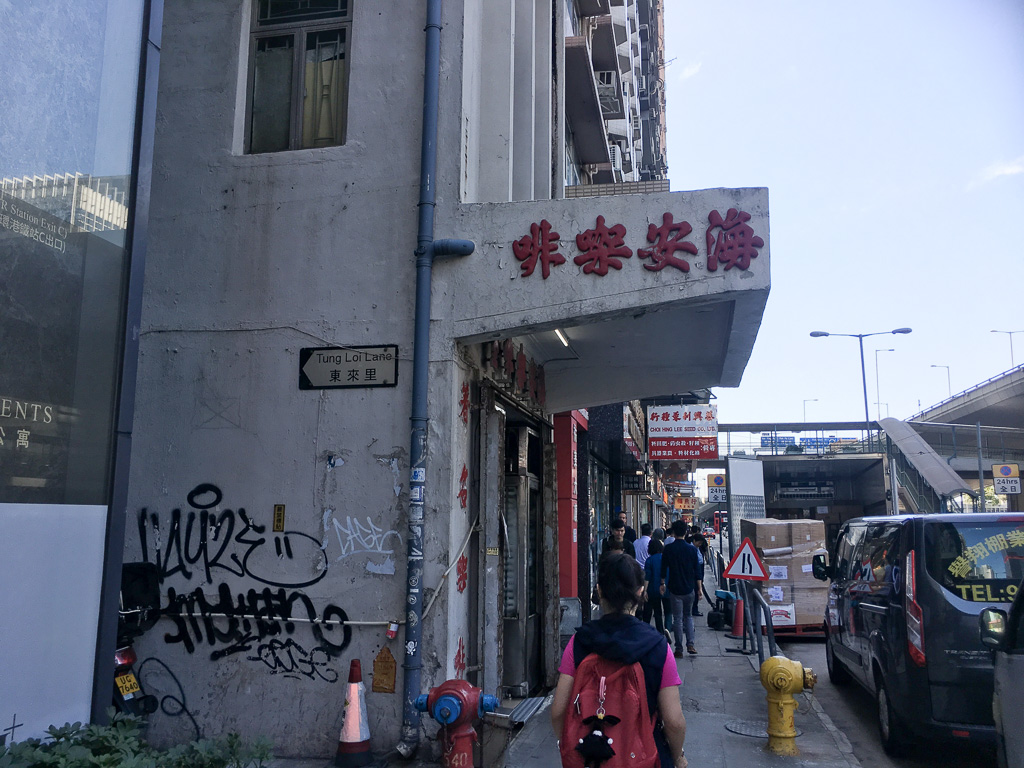 Today, Sheung Wan is one of the busiest commercial centers of HK. What we can see are only skyscrapers and you can never imagine there is still an old restaurant waiting for you to enjoy their food.
時至今日,上環已是香港最繁忙商業區之一,到處也只有高樓大廈,海安咖啡室也因填海由海邊變成了內陸,但你也很難想像在上環這地方會找到這樣的古舊餐廳,就讓我們去看一下。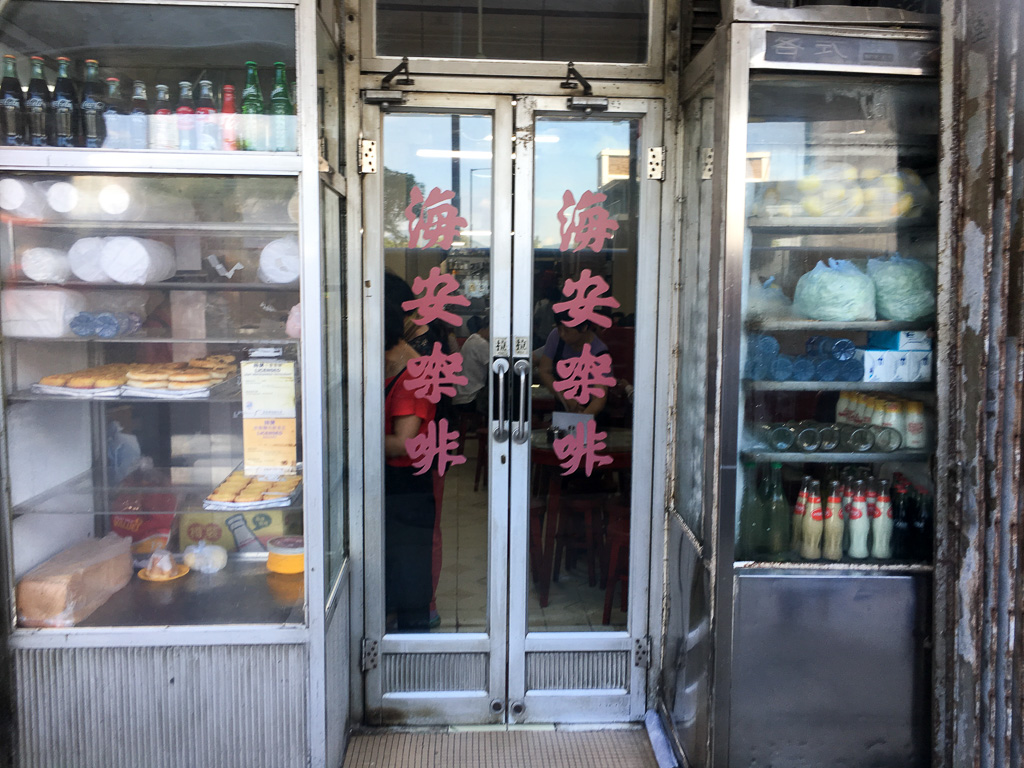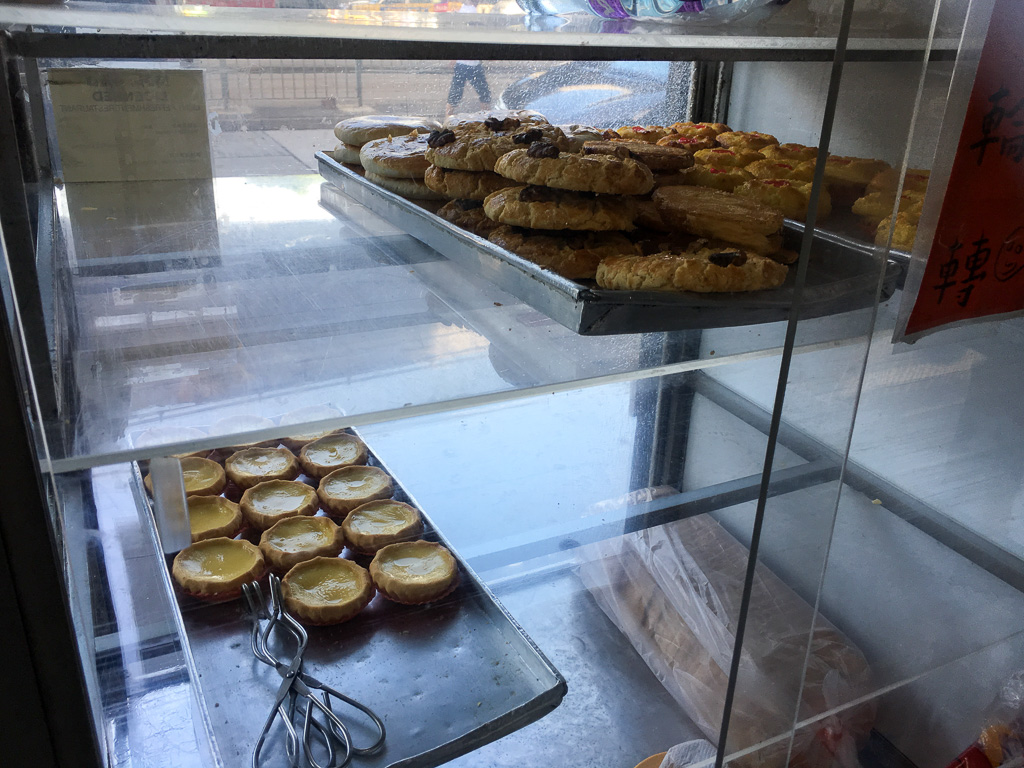 From the photo, we can see the traditional decoration of the HK old restaurant: Rusty Iron Gate, Air conditioner, and delicious cakes and bread as a display! In the restaurant, we have historical floor tiles and red wooden seating. The word on the Chinese paper decoration is "福", which means "happiness/blessed".
海安的門面就是想當年的那個風格了:生銹大鐵閘,冷氣機在門口,窗前還放著新鮮出爐的面包和糕點!在餐廳內,映入眼前是古舊的地板風格,上世紀的紅色木椅,牆上還掛著一張張的「福」字,新年好像還未到。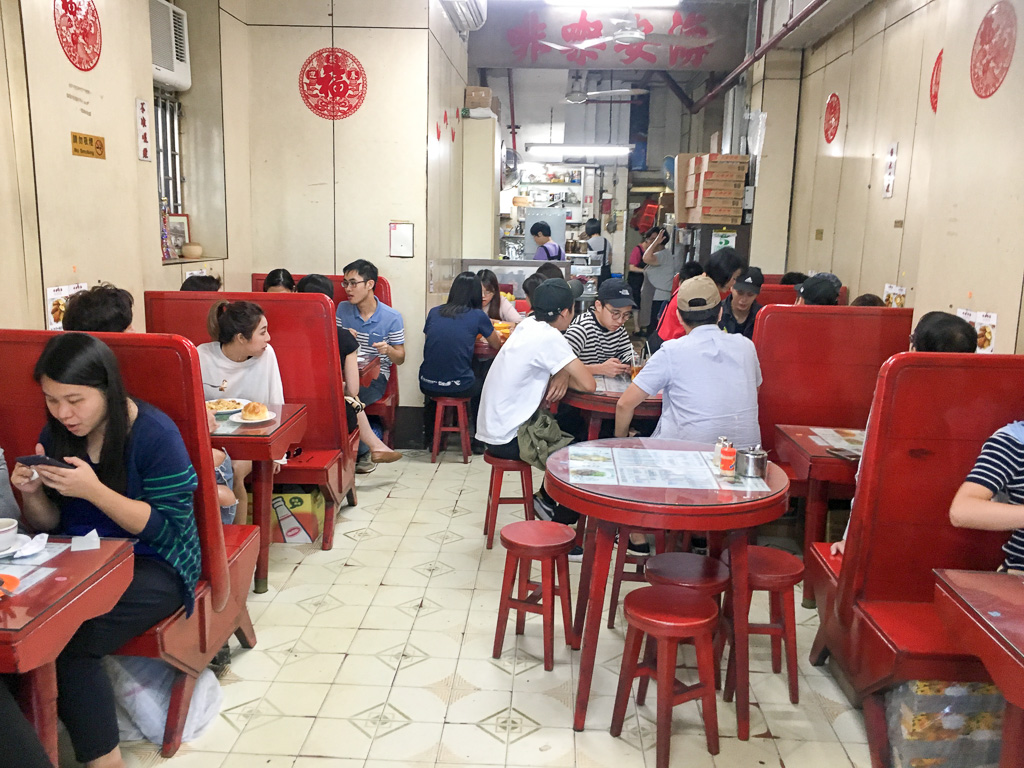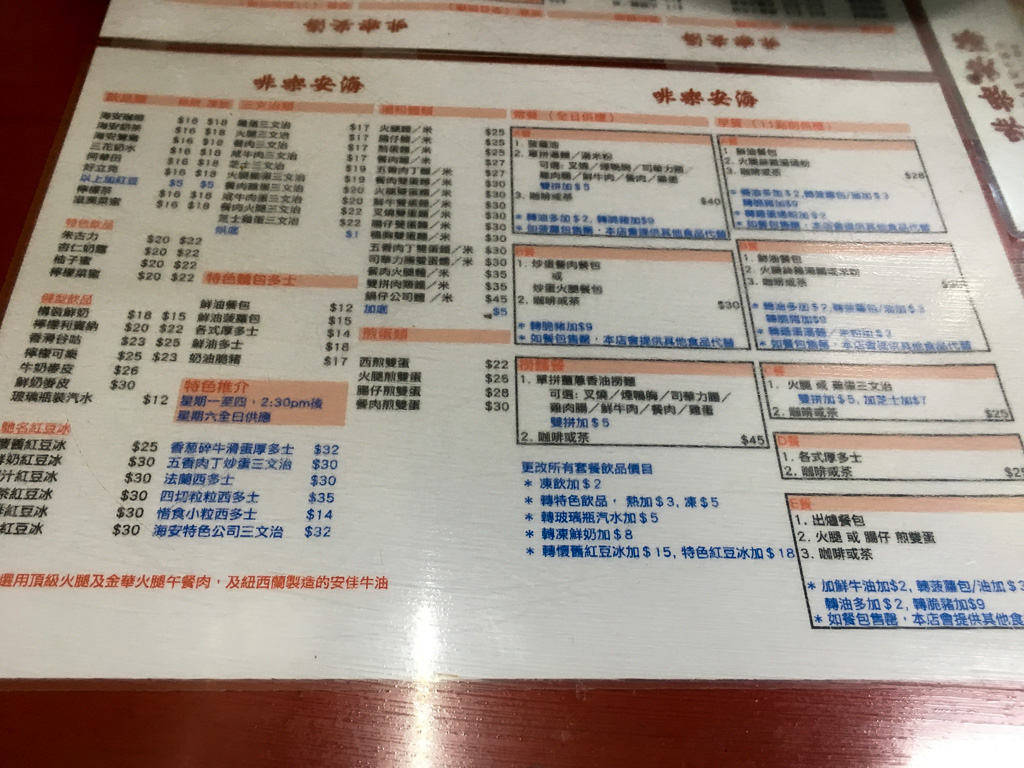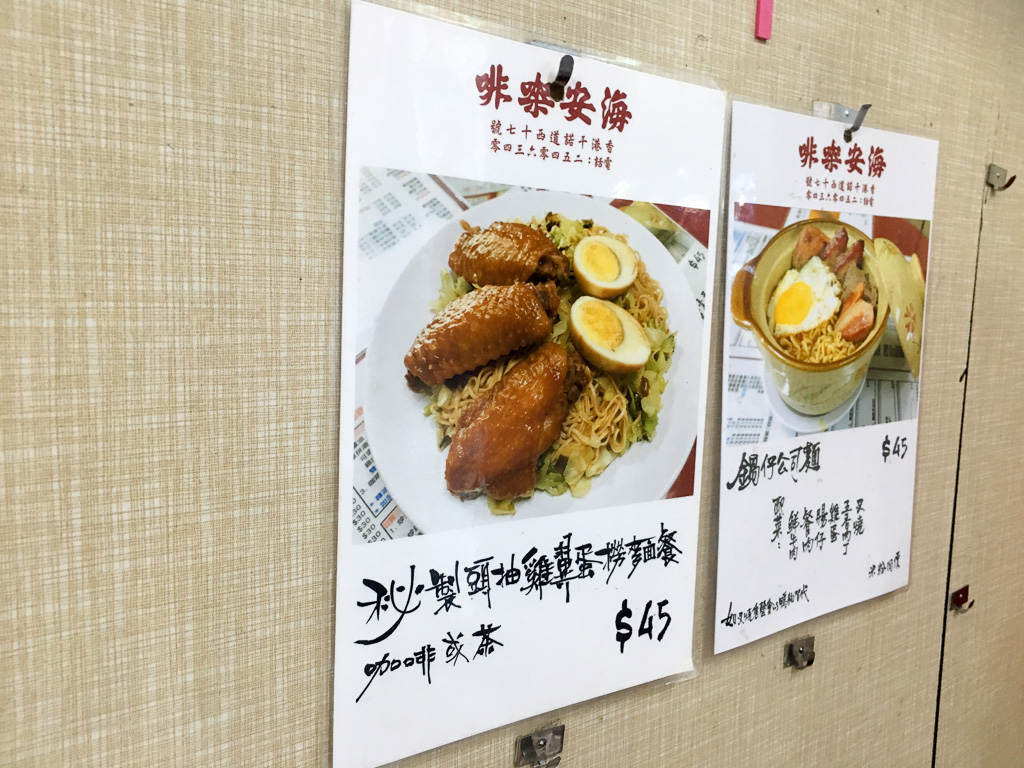 I ordered a 鍋仔公司面, which means a pot club noodles. It's a dish of beef, egg, cha siu, sausages, spam and spiced pork cube with noodle. I can only say the noodle is not so special but the tea is good! I can feel the strong taste of tea without too much milk. I like it!
我點了一個它們的招牌菜鍋仔公司面,我不知道其他地區有沒有「公司」這個說法,在香港的菜如果有公司兩字,就是說它會有很多很多的配料,如公司三文治就有蛋、芝士、火腿、午餐肉、免治牛肉等等等等。這個鍋仔公司面就有蛋、牛肉、叉燒、腸仔、午餐肉和五香肉丁,配上公仔面放進大鍋中!老實說,味道沒有什麼特別,就是一鍋面,不過那杯奶茶很不錯!茶味濃,奶味不太重,我喜歡!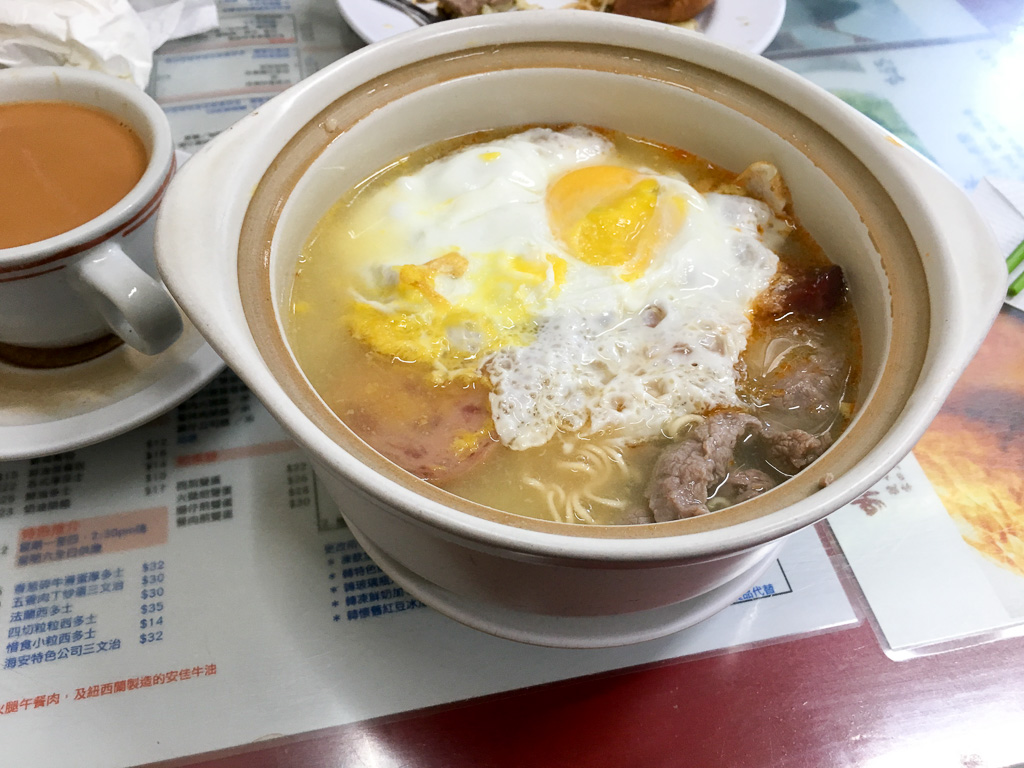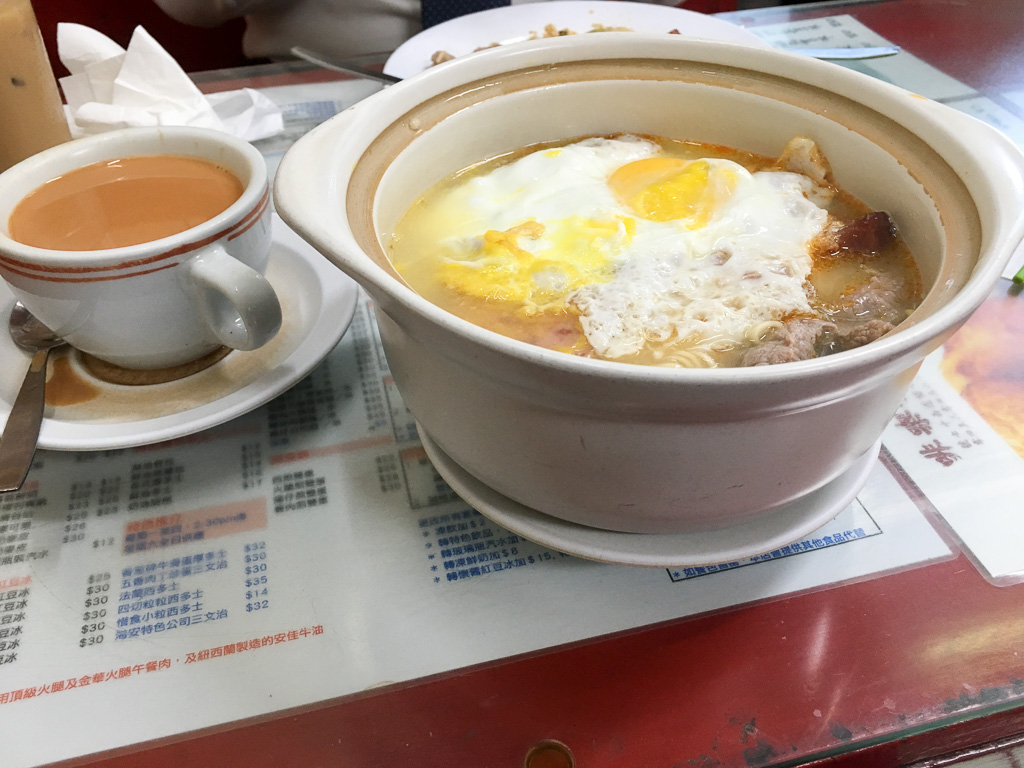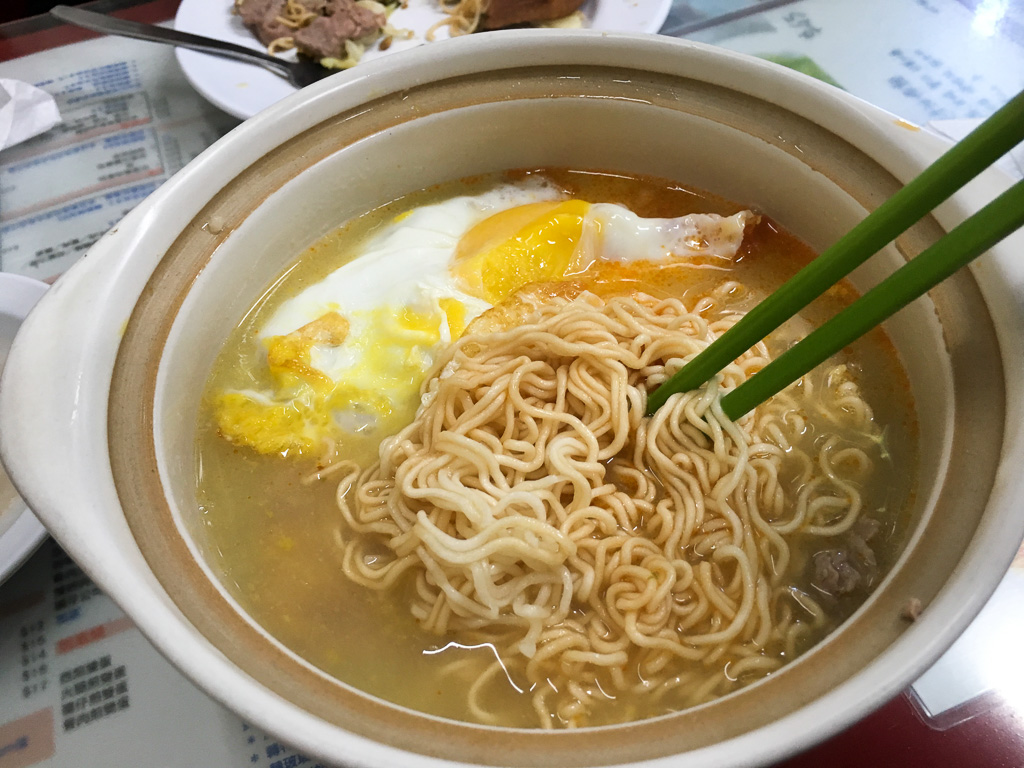 Beside noodle, you can also try local food like HK-French Toast, Egg Tart, buttered Pineapple Bun and Red Bean Ice Tea (red bean ice in tea)!
Before leaving, I took the name card of the restaurant. Even we in Hong Kong can seldom see such style of name card now. I believe it can already be a souvenir for tourists!
除了面,你也可以試試這裡著名的地道美食:西多士、蛋撻、菠蘿油、還有把奶茶和紅豆冰混在一起的奶茶紅豆冰。
離開之前,我拿了一張這裡的卡片,這種風格的卡片實在買少見少了,我想拿來做手信也已經很有特色!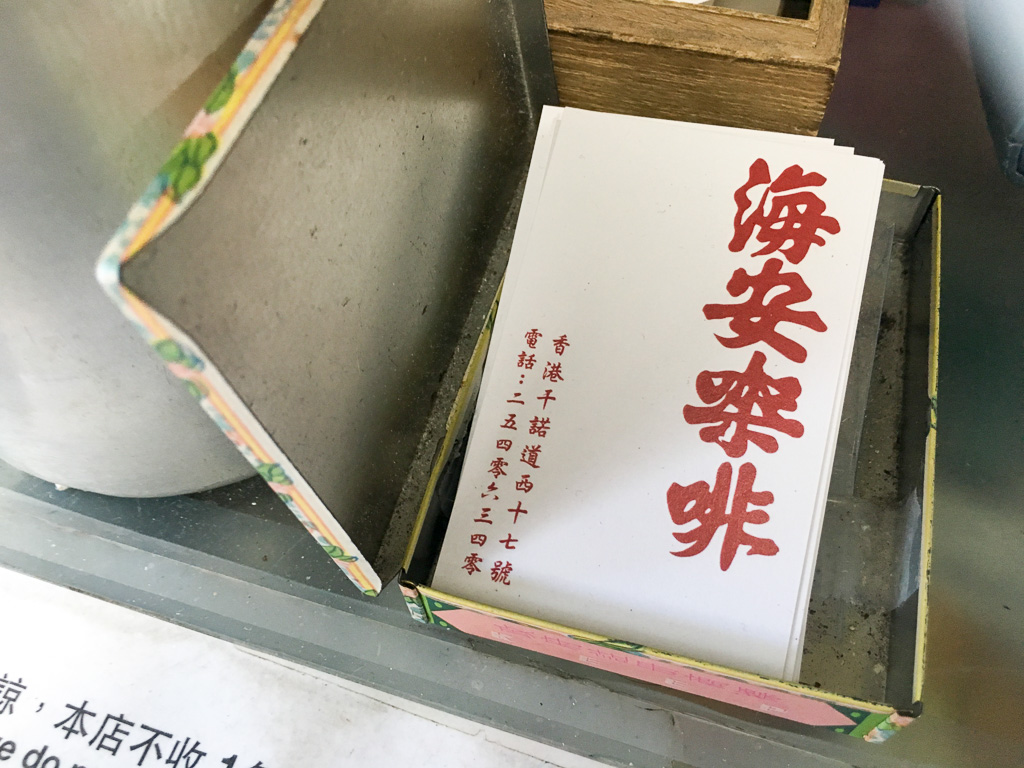 As what I said from previous HK Snapshot, Sheung Wan is the first place developed with Central in Hong Kong. I can find a lot of old restaurants in Sheung Wan. I think I can a Sheung Wan Restaurant Series haha. What do you think?
如之前所說,上環是香港最早開發的地區,所以在上環我還能找到很多很有特色的老餐廳,想著想著可以開一個上環美食之旅系列了!大家想嗎?
!steemitworldmap 22.2877027 lat 114.1476889 long d3scr
---
Thanks for spending your time to read my articles. I like to share stories of Hong Kong. I wish you may support me and I will keep going!
謝謝你能抽空閱讀這篇文章,我平日喜歡分享香港的故事,希望大家多多支持,我會繼續努力!